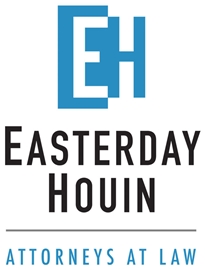 300 E Jefferson St

Plymouth

,

IN

46563
Area Practice
General Practice
Civil Litigation
Criminal
DUI/DWI
Divorce
Bankruptcy
Probate
Estate Planning
Real Estate
Business Law
Additional Info
For 40 years, Easterday Houin LLP has been the firm individuals and businesses in Indiana trust for experienced, aggressive and results oriented legal service. When you turn to us, you can expect quality legal representation from lawyers who work their hardest to get you successful results.
Choosing a law firm can be overwhelming. But it doesn't have to be when you know what to look for. At Easterday Houin LLP, we believe the perfect combination of these characteristics makes a law firm exceptional:
Experienced advocacy. With 40 years of experience as general practice lawyers, we've handled a variety of legal cases. No matter the complexity of your case or the area of law you need assistance with, rest assured we have the experience, skills and knowledge to help you resolve it effectively.
Results-oriented service. When you hire us, we take your legal matters seriously. We put a premium on getting you results that count. We won't back down until we've successfully resolved your legal issues.
Straightforward and candid advice. When you come to our office, we communicate clearly with you about your case and give you precise advice on what to expect. We don't just tell you what you want to hear. We give you straight facts so you can make an informed decision. Because of our commitment to representing you with integrity, we've earned the top recognition in the legal industry for our professionalism and ethics.
At Easterday Houin LLP, we can help you with:
General practice. We can help you with a variety of legal areas including real estate, business, estate planning, estate administration & probate and bankruptcy.
Criminal defense. We handle all types of criminal defense, including DUI, traffic violations, felonies and misdemeanors.
Family law. We assist clients with all major family issues including divorce, child custody, child support, visitation rights and adoption.
Lawyers