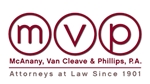 McAnany, Van Cleave & Phillips, P.a.
10 E Cambridge Circle Dr Ste 300

Kansas City

,

KS

66103
Area Practice
General Civil Trial
Appellate Practice
Administrative Law
Antitrust
Banking Law
Business Litigation
Civil Rights
Commercial Law
Corporate Law
Education Law
Employment Law
Insurance
Labor And Employment
Municipal Bonds
Negligence
Probate
Products Liability
Professional Malpractice
Real Estate
Tax Law
Trust Law
Utility Law
Zoning Law.
Alternative Dispute Resolution
Mediation
Arbitration
Antitrust and Trade Regulation
Trade Secrets
Restrictive Covenants
Personal Injury Defense
Workers Compensation Defense
Additional Info
Established in 1901, McAnany, Van Cleave & Phillips is a full-service law firm with offices strategically located to serve our clients in Kansas, Missouri, Illinois, Oklahoma, Nebraska, Iowa and Arkansas.

Founded in 1901, McAnany, Van Cleave & Phillips, P.A. is one of the oldest law firms in Kansas. From the beginning, our strength has been the practice of law as a firm. We are more than a mere association of professionals, we are a team of individuals with complementary skills and talents. We pride ourselves in attracting and retaining outstanding professionals. We are committed to providing superior legal services to our clients consistent with our ethical obligation to the courts and the public. We invest time, energy and money to continually improve the quality of our professional services. We strive for excellence and seek to represent clients as we would want to be represented. Since our firm's founding, our ultimate goal has been to provide the highest quality of legal services to our clients in a timely manner at reasonable charges.
McAnany, Van Cleave and Phillips (MVP) was established in Kansas City, Kansas, in 1901. Our founders, E.S. McAnany and Maurice Alden, combined a traditional philosophy of ethics and integrity with a creative and proactive legal practice. Today, our attorneys continue that vision of service with results, ethics with integrity, and creativity with solutions with a focus on quality and values to advance our clients' interests.
The firm's early attorneys practiced in areas we continue to successfully serve clients in to this day—real estate law, financial institution law, litigation, and not-for-profit law. Over the years, our expertise has expanded with the challenges and changes in the law, in business, and in our society to exceed our clients' objectives and offer them service in many other practice areas.
Lawyers