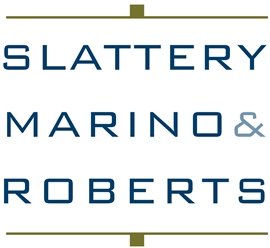 Slattery, Marino & Roberts A Professional Law Corporation
Energy Centre, 1100 Poydras Street, Suite 1800,

New Orleans

,

LA

70163
Area Practice
General Civil Practice
Litigation
State Courts
Corporate Law
Oil and Gas Law
Environment
Natural Resources
Banking Law
Financial Institutions Law
Bankruptcy
Creditors' Rights
Real Estate
Successions
Probate
Energy
Finance
Lender Liability
Mineral Title
Estate Planning
Trusts and Estates
Estate Administration
Trust Administration
Trust Law
Trust Planning
Powers of Attorney
Estate Settlements
Contested Trusts and Estates
Wills
Living Wills
Contested Wills
Bankruptcy Chapter 7
Bankruptcy Chapter 11
Commercial Bankruptcy
Debtor Bankruptcy
Condominium Association Law
Real Estate Finance
Real Estate Contracts
Real Estate Title
Federal Civil Litigation
Civil Litigation
Mediation
Arbitration
Alternative Dispute Resolution
Energy Contracts
Collections
Foreclosures
Personal Injury
Oilfield Personal Injury
Property Damage
Pollution
Commercial Litigation
Commercial Real Estate Contracts
Shopping Center Law
Shopping Center Acquisitions
Shopping Center Leasing
Family Partnerships
Limited Liability Company Law
Family Limited Partnerships
Probate Administration
Business Litigation
Oil and Gas Litigation
Oil and Gas Title Examination
Business Successions
Corporate Successions
Mineral Rights
Mineral Law
Mineral Royalties
Mineral Leasing
Joint Ventures
Oil and Gas Contracts
Oil and Gas Finance
Energy Regulation
Oil and Gas Arbitration
Maritime Contracts
Bank Collections
Bankruptcy Litigation
Commercial Foreclosure
Creditors Rights
Commercial Finance
Leveraged Acquisitions
Leveraged Buyouts
Maritime Law
Commercial Landlord and Tenant Law
Landlord and Tenant Law
Savings and Loan Law
Real Estate Secured Lending
Real Estate Leasing
Conservatorship
Guardianship
Limited Partnerships
Limited Liability Partnerships
Bankruptcy Reorganization
Commercial Loans
Zoning Law
Zoning, Planning and Land Use
Commercial Transactions
Business Formation
Insurance Coverage
Environmental Law
Confidentiality Agreements
Secured Creditors Rights
Unsecured Creditors Rights
Bank Foreclosures
Banking Litigation
Financial Services Law
FINRA Arbitration
Leveraged Leasing
Loan Workouts
Loan Restructuring
Bond Finance
Contracts
Commercial Law
Corporate Litigation
Securities Law
Securities Litigation
Breach of Contract
Fraud
Civil Fraud
Fiduciary Law
Closely Held Business Law
Buy-Sell Agreements
Business Succession Planning
Marital Agreements
Premarital Agreements
Post Nuptial Agreements
Probate Litigation
Ancillary Probate
Probate Taxation
Condominium Law
Real Estate Sales
Real Estate Acquisitions
Insolvency
Noncompetition and Non-Solicitation Agreements
Corporate Formation
Corporate Workouts
Partnership Law
Creditors Rights in Bankruptcy
Bankruptcy Collections
Business Reorganization
Asset Recovery
Liens and Privileges
Financial Services Litigation
Energy Finance
Mergers and Acquisitions
Insurance Defense
Governmental Law
Additional Info
Located in the heart of the Crescent City, the law firm of Slattery, Marino & Roberts ("SMR") was formed on January 1, 1991. Since inception, our attorneys and legal staff have developed a diverse legal practice serving clients across the business spectrum which has allowed the firm to specialize in various litigation and transactional matters.
The firm is highly recognized for its expertise in transactions and litigation involving the oil and gas industry. These matters involve the Outer Continental Shelf and various government agencies, including the Bureau of Ocean Energy Management (BOEM), the Bureau of Safety and Environmental Enforcement (BSEE), and regulatory matters in every OCS Region, as well as matters involving onshore Louisiana properties. Our governmental and legislative affairs attorneys assist our clients with all federal and state issues that our clients face with these various agencies.
The firm is also experienced in business and commercial law, banking litigation, corporate law, business entity formation, contract negotiations, business transactions, successions and estate planning. We also represent clients with various real estate needs, including both commercial and residential matters.
Whether in traditional mineral transactions, complex litigation spanning multiple jurisdictions, or billion dollar transactions, the counsel provided by Slattery, Marino & Roberts is consistently noted for its skill, intelligence, innovation and legal sophistication with the focus on the client.
Lawyers