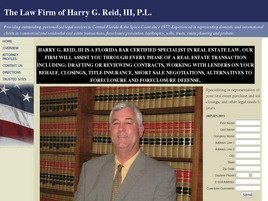 The Law Firm Of Harry G. Reid, Iii, P.l.
1120 W 1st St Ste B

Sanford

,

FL

32771
Area Practice
Real Estate
Mortgage Law
Corporate Law
Business Law
Leases And Leasing
Leases and Leasing
Probate
Wills
Trusts And Estates
Trusts and Estates
Contracts
Home
Business Purchases
Sale Of Goods
Title Examinations
Title Insurance
Bankruptcy
Bankruptcy Chapter 7
Consumer Bankruptcy
Foreclosures
Personal Bankruptcy
Workouts
Construction Contracts
Commercial Contracts
Adoptions
Gay and Lesbian Family Law
Independent Adoptions
Private Adoptions
Step Parent Adoptions
Uncontested Divorce
General Practice
Commercial Leasing
Retail Leasing
Evictions
Commercial Mortgages
Foreclosure Defense
Mortgage Finance
Mortgage Foreclosure
Mortgage Lien Foreclosure
Mortgage Refinancing
Mortgage Workouts
Family Limited Partnerships
Partnership Law
Family Partnerships
Limited Liability Partnerships
Limited Partnerships
Partnership Formation
Partnership Organization
Ancillary Probate
Probate Administration
Property Law
Adverse Possession
Boundary Disputes
Conservation Easements
Easements
Land Acquisitions
Land Sales
Quiet Title
Real Estate Acquisitions
Real Estate Contracts
Real Estate Foreclosure
Real Estate Investment
Real Estate Joint Ventures
Real Estate Leasing
Real Estate Partnerships
Real Estate Sales
Real Estate Secured Lending
Real Estate Settlements
Real Estate Tax Foreclosure
Real Estate Tax Liens
Real Estate Title
Real Estate Title Examination
Real Estate Title Insurance
Real Estate Workouts
Real Property
Real Property Acquisitions
Residential Real Estate
Residential Real Estate Acquisitions
Residential Real Estate Foreclosure
Residential Real Estate Sales
Decedents Estates
Estate Administration
Estate Planning
Estate Planning for Parents of Handicapped Children
Estate Planning for Unmarried Couples
Estate Planning for the Disabled
Estate Planning for the Elderly
Estate Settlements
Family Trusts
Family Wealth Transfer
Living Trusts
Pet Trusts
Powers of Attorney
Special Needs Trusts
Retirement Planning
Trust Planning
Wealth Planning
Inheritance
Living Wills
Successions
Additional Info
Florida Bar Certified Specialist in Real Estate Law; Contracts, Closings & Title Ins.; Wills, Trusts & Probate; Business Formation; Bankruptcy; Short Sales; Leases; Powers of Attorney; Estate Planning; Adoptions; Foreclosures; Quiet Title.

REAL ESTATE TRANSACTIONS. We offer complete "one stop" sale by owner Services. When you buy or sell real estate, we can advise you concerning the best way to handle your transactions and assist you in carrying it out to completion. Our real estate work includes the sale or purchase of real estate, drafting of contracts, leases, lease purchases, title insurance, title searches, loan workouts, short sales and closing. We can clear titles. We can assist and advise in your financing. We can refer you to lenders and prepare all documentation necessary for a successful closing.

REAL ESTATE LITIGATION: We can file and prosecute a foreclosure suit to protect your interests, if your debtor is not paying his mortgage. If there is a cloud on your title, we can file and pursue a quiet title suit in order to clear the title to your real estate. If you have purchased property via a tax deed, we can file and pursue a Quiet Title suit to give you marketable title. We can mediate and/or defend you in a foreclosure suit. If you are a lender holding a mortgage which has not been paid, we can bring and prosecute a foreclosure suit on your behalf.

LOAN RESTRUCTURE: If you are behind in your mortgage payments, we may be able to assist with loan restructure workout, modifications, short sale, or deed in lieu in defending the foreclosure. We are familiar with the government incentive programs (HAMP, HARP, HAFA, etc.), and will advise you if you may be a candidate for such incentives.

WILLS & TRUSTS: We can discuss and advise on your estate planning needs and prepare all necessary documentation to assure that your property and assets will be distributed according to your wishes and, if applicable, to assure that your children will have the proper guardian you choose. These services include but are not limited to the preparation of wills, durable power of attorneys, health care surrogate designations, living wills, and revocable trusts.

PROBATE & ESTATE ADMINISTRATION: We handle the probating of Florida estates. We will assist the family or personal representative to open, manage and settle the estate by giving guidance and preparing and filing all of the necessary notices and documents to probate a deceased person's Estate. We will assist in assuring all proper claims are paid and that assets are distributed to the intended heirs.

BUSINESS LAW: We can help you organize and maintain your business and work with you as it grows. We handle incorporations, limited liability company formations, business contracts, annual minutes and partnership agreements. We can draft and prepare buy and sell agreements, leases, contracts for purchases and sales of businesses, asset purchases and sales, and can handle the closing of all such contracts and the preparation of all necessary closing documents.

BANKRUPTCY: We can help you prepare all the necessary Chapter 7 bankruptcy documents, and we will facilitate the process of moving your file through bankruptcy proceedings.

FAMILY LAW: We handle uncontested dissolutions. We prepare marital settlement agreements, parenting plans and time sharing schedules. Our services include stepparent adoptions and change of names.

SEMINARS: We can provide you or your group lectures on wills, trusts, estate planning, real estate contracts, title insurance, and short sale negotiation processes.

OTHER MATTERS: We can be your personal, family and business lawyer. If you have a legal problem that we do not handle, we will gladly refer you to other outstanding attorneys, lawyers and counselors who have expertise in that area. We can work with, and refer you to honest and excellent accountants, tax specialists, real estate agents, mortgage brokers and lenders.