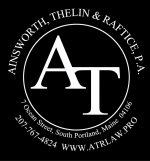 Ainsworth, Thelin & Raftice, P.a.
7 Ocean Street,

South Portland

,

ME

04106
Area Practice
Aged and Aging
Age Discrimination
Elder Abuse
Alcoholic Beverages
Alcoholic Beverage Control
Dram Shop Liability
Liquor Liability
Liquor Licensing
Local Liquor Options
Alternative Dispute Resolution
Arbitration
Collaborative Law
Mediation
Appellate Practices
Civil Appeals
Bankruptcy
Bankruptcy Arbitration
Bankruptcy Chapter 7
Bankruptcy Chapter 11
Bankruptcy Chapter 13
Bankruptcy Collection
Bankruptcy Fraud
Bankruptcy Litigation
Bankruptcy Mediation
Bankruptcy Reorganization
Bankruptcy Taxation
Commercial Bankruptcy
Commercial Foreclosure
Commercial Insolvency
Commercial Recovery
Commercial Workouts
Creditor Bankruptcy
Debt Relief
Foreclosures
Fraudulent Conveyance
Insolvency
Liquidations
Out of Court Debt Restructuring
Pre-Bankruptcy Workouts
Receiverships
Repossessions
Workouts
Workouts Taxation
Banks and Banking
Bank Collections
Bank Directors and Officers Liability
Bank Foreclosures
Check Fraud
Commercial Banking
Commercial Credit
Commercial Loans
Consumer Banking
Credit Card Law
Credit Law
Escrow Agent Liability
Fair Lending
Lender Law
Lender Liability
Lenders Rights
Loan Workouts
Loans
Merchant Banking
Secured Lending
Truth in Lending
Business Law
Business Arbitration
Business Associations Law
Business Cooperatives
Business Crimes
Business Development
Business Dissolutions
Business Enterprises
Business Estate Planning
Business Formation
Business Fraud
Business Litigation
Business Mediation
Business Organization
Business Planning
Business Regulation
Business Reorganization
Business Start-Ups
Business Succession Planning
Business Successions
Business Syndication
Business Taxation
Business Torts
Business Transactions
Business Transfers
Business Trusts
Business Valuation
Buy-Sell Agreements
Buying and Selling of Businesses
Closely Held Business Estate Planning
Closely Held Business Law
Closely Held Business Taxation
Complex Business Litigation
Emerging Business Law
Emerging Growth Companies
Entrepreneurial Business Law
Family Business Law
Family Business Mediation
Family Business Successions
Limited Liability Company Law
Minority Business Law
Pass-Through Entities
Private Business Law
Privatization
Professional Practices
Small Business Law
Sole Proprietorships
Strategic Alliances
Children
Child Abuse and Neglect
Child Advocacy
Child Care
Child Custody
Child Custody Mediation
Child Dependency
Child Protection
Child Sexual Abuse
Child Support
Child Welfare
Children's Rights
Day Care
Fathers Rights
Foster Care
Grandparents Custody
Grandparents Visitation Rights
Interstate Child Custody
Juvenile Criminal Law
Juvenile Delinquency
Juvenile Dependency
Juvenile Law
Parental Kidnapping
Parental Rights
Parenting Time
Step Parent Adoptions
Termination of Parental Rights
Third Party Custody
Visitation Rights
Civil Practice
Federal Civil Practice
Collections
Commercial Collections
Garnishments
Post Judgment Collections
Professional Collections
Retail Collections
Secured Collections
Unsecured Collections
Commercial Law
Commercial Arbitration
Commercial Bad Faith
Commercial Crimes
Commercial Fraud
Commercial Liability
Commercial Litigation
Commercial Mediation
Commercial Torts
Commercial Transactions
Commercial Transfers
Commercial Trusts
Complex Commercial Litigation
Negotiable Instruments
Retail Liability
Sale of Goods
Secured Transactions
Uniform Commercial Code
Warehousing
Commercial Real Estate
Commercial Real Estate Acquisitions
Commercial Real Estate Bankruptcy
Commercial Real Estate Contracts
Commercial Real Estate Development
Commercial Real Estate Finance
Commercial Real Estate Foreclosure
Commercial Real Estate Litigation
Commercial Real Estate Sales
Commercial Real Estate Syndication
Commercial Real Estate Workouts
Industrial Real Estate Law
Retail Development
Shopping Center Acquisitions
Shopping Center Development
Shopping Center Law
Complex and Multi-District Litigation
Constitutional Law
Fifth Amendment Law
Fourth Amendment Law
Freedom of Information
Construction Law
Construction Accidents
Construction and Design Law
Construction and Surety Law
Construction Arbitration
Construction Claims
Construction Contracts
Construction Defects
Construction Equipment Liability
Construction Finance
Construction Insurance
Construction Labor Law
Construction Liability
Construction Liens
Construction Litigation
Construction Mediation
Construction Products Liability
Construction Safety
Construction Workouts
Contractor Performance Bonds
Contractors Liability
Materialmens Liens
Mechanics Liens
Roof Industry Liability
Scaffolding Liability
Consumer Law
Consumer Arbitration
Consumer Collections
Consumer Credit
Consumer Credit Compliance
Consumer Finance
Consumer Fraud
Consumer Litigation
Consumer Protection
Consumer Rights
Fair Credit Reporting Act
Contracts
Breach of Contract
Commercial Contracts
Contract Fraud
Contract Litigation
Corporate Law
Closely Held Corporations
Corporate Banking Law
Corporate Commercial Law
Corporate Contracts
Corporate Control Contests
Corporate Criminal Law
Corporate Dissolution
Corporate Ethics
Corporate Fiduciary Law
Corporate Finance Law
Corporate Formation
Corporate Governance
Corporate Insurance
Corporate Investigations
Corporate Litigation
Corporate Organization
Corporate Partnerships
Corporate Planning
Corporate Real Estate
Corporate Reorganization
Corporate Successions
Corporate Tax Controversies
Corporate Trusts
Corporate Workouts
Family Corporations
Incorporation
Nonprofit Corporations
Professional Corporations
Proxy Contests
S Corporations
Small Business Corporations
Criminal Law
Assault and Battery
Burglary
Civil Forfeiture
Crime Victims Compensation
Criminal Appeals
Criminal Conspiracy
Criminal Defense
Criminal Forfeiture
Criminal Investigation
Drivers License Suspension
Driving While Intoxicated
DUI/DWI
Electronic Surveillance
Expungements
Extortion
Federal Criminal Law
Felonies
Forgery
Habeas Corpus
Hit and Run
Homicide
Mail Fraud
Malicious Prosecution
Misdemeanors
Money Laundering
Parole and Probation
Post-Conviction Remedies
Search and Seizure
Shoplifting
Stalking
Theft
Traffic Violations
Victims Rights
Weapons Charges
Wire Fraud
Wiretapping
Debtor and Creditor
Creditors Rights
Creditors Rights in Bankruptcy
Debtor and Creditor Collections
Debtor and Creditor Reorganization
Debtor and Creditor Rights
Debtor and Creditor Workouts
Fair Debt Collection Practices Act
Secured Creditors Rights
Unsecured Creditors Rights
Drugs and Narcotics
Civil Drug Forfeiture
Controlled Substances Law
Drug Crimes
Drug Forfeiture
Drug Trafficking
Education Law
Independent School Law
Private School Law
Public School Law
Employee Benefits
Executive Compensation
Unemployment Compensation
Unemployment Compensation Taxation
401(k) Plans
Equipment Finance and Leasing
Equipment Finance
Equipment Leasing
Vehicle Leasing
Family Law
Alimony
Annulment
Cohabitation Agreements
Collaborative Family Law
Community Property Law
Divorce
Divorce Arbitration
Divorce Mediation
Divorce Taxation
Domestic Partnerships
Domestic Relations
Domestic Torts
Domestic Violence
Equitable Distribution
Family Arbitration
Family Mediation
Gay and Lesbian Family Law
Interstate Support
Marital Agreements
Marital Property Distribution
Marital Property Law
Marital Property Settlements
Matrimonial Bankruptcy Law
Matrimonial Law
Military Divorce
Name Changes
Non-Traditional Family Law
Paternity
Post Divorce Modification
Postnuptial Agreements
Premarital Agreements
Qualified Domestic Relations Orders (QDROs)
Restraining Orders
Separation Agreements
Spousal Support
Uncontested Divorce
Finance
Financial Institutions Litigation
Financial Restructuring
Secured Finance
Unsecured Finance
Franchises and Franchising
Automotive Franchises and Dealerships
Franchise Arbitration
Franchise Litigation
Franchise Mediation
Franchise Termination
Fraud and Deceit
Civil Fraud
General Practice
Federal Practice
Government
Federal Tort Claims
Government Agency Practice
Local Government Law
Local Government Relations
Guardianship and Conservatorship
Adult Guardianship
Advance Directives
Conservatorship
Dependent Adult Abuse
Elder Guardianship
Guardian Ad Litem
Guardianship
Guardianship Administration
Incompetency Proceedings
Health Care
Health Care Contracts
Health Care Corporate Law
Health Care Mergers and Acquisitions
Physician Practices
Housing Law
Fair Housing
Housing Development
Housing Discrimination
Senior Citizen Housing
Insurance
Automobile Insurance Coverage
Automobile Liability
Casualty Insurance
Casualty Insurance Subrogation
Commercial Insurance
Commercial Property Insurance
First and Third Party Insurance
First Party Insurance
General Liability
Insurance Arbitration
Insurance Bad Faith
Insurance Collection
Insurance Contracts
Insurance Coverage
Insurance Litigation
No Fault Automobile Insurance
Personal Liability
Property Damage
Property Insurance
Property Insurance Coverage
Property Loss
Property Subrogation
Subrogation
Unfair Insurance Practices
Uninsured and Underinsured Motorists
Uninsured and Underinsured Motorists Arbitration
Labor and Employment
Age Discrimination in Employment
Child Labor Law
Confidentiality Agreements
Covenants Not To Compete
Employee Discipline
Employee Drug Testing
Employee Privacy
Employee Rights
Employer Intentional Torts
Employer Liability
Employer Rights
Employment Arbitration
Employment at Will
Employment Breach of Contract
Employment Civil Rights
Employment Claims
Employment Contracts
Employment Disability Discrimination
Employment Discrimination
Employment Law
Employment Litigation
Employment Mediation
Employment Rights
Employment Termination
Executive Employment Law
Fair Labor Standards
Federal Employment Law
Harassment
Labor Arbitration
Labor Law
Management Employment Law
Management Labor Law
Minimum Wage Law
Noncompete Litigation
Noncompetition and Non-Solicitation
Sexual Harassment
Unfair Labor Practices
Wage and Hour Law
Wrongful Termination
Leases and Leasing
Commercial Landlord and Tenant Law
Commercial Leasing
Evictions
Industrial Leasing
International Leasing
Landlord and Tenant Law
Lease Finance
Lease Terminations
Leasing
Office Leasing
Shopping Center Leasing
Unlawful Detainer
Libel, Slander and Defamation
Defamation
Libel and Slander
Libel Defense
Media Libel
Litigation
Civil Litigation
Complex Litigation
Defense Litigation
Federal Civil Litigation
Federal Litigation
Long-Arm Litigation
Trial Practice
Mergers, Acquisitions and Divestitures
Business Acquisitions
Merger Reorganization
Mergers and Acquisitions
Mergers and Acquisitions Finance
Mergers and Acquisitions Taxation
Spin-Offs
Mortgages
Commercial Mortgages
Mortgage Banking Law
Mortgage Bankruptcy
Mortgage Finance
Mortgage Foreclosure
Mortgage Insurance
Mortgage Lien Foreclosure
Mortgage Refinancing
Mortgage Workouts
Municipal Law
Municipal Corporation Law
Municipal Labor Law
Municipal Leasing
Negligence
Negligence Defense
Nonprofit and Charitable Organizations
Nonprofit Organizations Law
Nonprofit Tax Law
Private Foundations
Public Charities
Tax Exempt Organizations
Partnership Law
Family Limited Partnerships
Family Partnerships
Limited Liability Partnerships
Limited Partnerships
Partnerships Dissolution
Partnership Formation
Partnership Organization
Partnership Syndication
Partnership Taxation
Personal Injury
Accidents
Animal Attacks
Aquatic Injuries
Automobile Accidents and Injuries
Automobile Negligence
Bicycle Accidents
Boating Accidents
Bodily Injury
Brain Injury
Carpal Tunnel Syndrome
Catastrophic Injury
Commercial Vehicle Liability
Cumulative Trauma
Dog Bites
Electrical Injury
Electromagnetic Field Litigation
Head Injury
Motor Vehicle Accidents and Injuries
Motorcycle Accidents
Pedestrian Injuries
Personal Injury Appeals
Personal Injury Arbitration
Personal Injury Mediation
Plaintiffs Personal Injury
Psychological Injury
Rental Vehicle Litigation
Repetitive Stress Injury
School Bus Accidents
Severe Burns
Slip and Fall
Spinal Injury
Third Party Wrongful Death
TMJ Dysfunction
Tourist Injuries
Transfusion Associated AIDS
Unintended Acceleration
Whiplash
Wrongful Death
Premises Liability
Inadequate Security
Negligent Security
Premises Security
Private Security Litigation
Probate
Ancillary Probate
Probate Administration
Probate Litigation
Probate Taxation
Professional Liability
Agents and Brokers Errors and Omissions
Agents and Brokers Liability
Architects and Engineers Errors and Omissions
Architects and Engineers Liability
Architects and Engineers Malpractice
Design Professionals Errors and Omissions
Design Professionals Liability
Design Professionals Malpractice
Directors and Officers Errors and Omissions
Directors and Officers Insurance Coverage
Directors and Officers Liability
Surveyors Malpractice
Property Law
Personal Property
Personal Property Leasing
Real Estate
Adverse Possession
Boundary Disputes
Common Interests Community Law
Community Association Law
Condominium Association Law
Condominium Conversions
Condominium Development
Condominium Law
Condominium Timeshares
Conservation Easements
Conveyancing
Cooperative Conversions
Cooperative Housing Association Law
Cooperative Housing Law
Easements
Historic Conservation Easements
Homeowners Association Law
International Real Estate
Land Acquisitions
Land Sales
Land Trusts
Manufactured Housing Law
Mobile Home Law
Planned Unit Development Law
Property Management
Quiet Title
Real Estate Acquisitions
Real Estate Arbitration
Real Estate Banking Law
Real Estate Bankruptcy
Real Estate Brokerage Law
Real Estate Brokers and Agents Liability
Real Estate Brokers Licensing
Real Estate Brokers Malpractice
Real Estate Brokers Malpractice Defense
Real Estate Collections
Real Estate Contracts
Real Estate Development
Real Estate Errors and Omissions
Real Estate Exchanges
Real Estate Finance
Real Estate Foreclosure
Real Estate Fraud
Real Estate Investment
Real Estate Investment Trusts
Real Estate Joint Ventures
Real Estate Leasing
Real Estate Litigation
Real Estate Mediation
Real Estate Partnerships
Real Estate Restructuring
Real Estate Sales
Real Estate Secured Lending
Real Estate Securities
Real Estate Settlements
Real Estate Syndication
Real Estate Tax Appeals
Real Estate Tax Assessment
Real Estate Tax Foreclosure
Real Estate Tax Liens
Real Estate Taxation
Real Estate Title
Real Estate Title Examination
Real Estate Title Insurance
Real Estate Trade Association Law
Real Estate Valuation
Real Estate Workouts
Real Property
Real Property Acquisitions
Real Property Development
Real Property Finance
Residential Real Estate
Residential Real Estate Acquisitions
Residential Real Estate Development
Residential Real Estate Finance
Residential Real Estate Foreclosure
Residential Real Estate Sales
Right of Way Easements
Waterfront Development
Resorts and Leisure
Hotel and Resort Development
Hotel and Resort Law
Innkeeper Law
Recreational Property Law
Resort Timeshares
Restaurant Liability
Taxation
Estate and Gift Taxation
Federal Estate and Gift Taxation
Life Kind Exchanges
Property Tax Abatement
Property Tax Appeals
Property Tax Assessments
Torts
Civil Liability
International Torts
Mass Torts
Tort Liability
Toxic Torts
Asbestos Litigation
Carbon Monoxide Poisoning
Chemical Exposure
Latex Allergy Litigation
Lead Poisoning
Mold Litigation
Occupational Cancer
Occupational Disease
Pesticide Litigation
Radiation Injury
Silicosis Litigation
Toxic Exposure
Toxic Torts Class Actions
Transportation
Freight Claims
Freight Loss and Damage
Motor Carrier Law
Motor Carrier Liability
Truck Accidents
Truck Overweight Violations
Trucking Law
Trucking Liability
Trusts and Estates
Contested Trusts and Estates
Decedents Estates
Estate Administration
Estate Bankruptcy
Estate Litigation
Estate Planning
Estate Planning for Parents of Handicapped Children
Estate Planning for the Disabled
Estate Planning for the Elderly
Estate Planning for Unmarried Couples
Estate Settlements
Family Trusts
Family Wealth Transfer
Fiduciary Law
Fiduciary Liability
Fiduciary Litigation
Financial Planning
Living Trusts
Personal Planning
Pet Trusts
Powers of Attorney
Retirement Planning
Special Needs Trusts
Surrogates Court Practice
Trust Administration
Trust and Estate Collections
Trust Law
Trust Litigation
Trust Planning
Unclaimed Property
Wealth Preservation
White Collar Crime
Embezzlement
White Collar Criminal Defense
White Collar Fraud
Wills
Contested Wills
Inheritance
Living Wills
Missing Heir Searches
Successions
Building and Public Safety Codes
Environmental Land Use
Improvement Districts
Land Conservation
Land Development
Land Entitlement
Land Use
Land Use Litigation
Land Use Permitting
Land Use Regulation
Rezoning
Special Districts
Subdivisions
Zoning Law
Zoning Variance
Additional Info
For over two decades the people of Maine have relied upon our professional and responsive legal service

For more than three centuries Portland's Casco Bay has been the vibrant center for hard-working men and women who know how to get the job done. The lawyers at Ainsworth, Theling & Raftice, P.A. are part of a tradition that continues to make this area pulse with energy and opportunity. The firm's solid reputation for quality legal services and an ability to get results is backed by the dedication, personal concern, and value that come from attorneys who are committed to your success.
Since 1987, the Portland personal injury attorneys at Ainsworth Thelin have been providing individual and business clients in Southern Maine with comprehensive legal services for cases involving an injury in Portland, family law, and criminal defense charge. We also serve as local counsel to companies with business interests in Maine.
Our offices are home to the Southern Maine Elder Law Center, through which we offer comprehensive planning services to clients and their families.
We know there are many Portland injury law firms that may get the job done. However, we offer clients the comfort of knowing that we get the job done right, we do it affordably, and we are here if we are needed again.
When you are a client of Ainsworth Thelin, we want you to feel as if a burden has been lifted from your shoulders and placed into safe hands. Our team-based approach means that you get the dedicated services of the attorney you hire. And, you benefit from the collective experience and skill all of our lawyers offer during informal conversations and the weekly roundtable meetings we hold to discuss issues and generate ideas.
Our offices are located just across the Casco Bay Bridge, five minutes from downtown Portland in the revitalized and growing Waterfront Market area of South Portland, Maine.
Our offices combine close proximity to the state's largest legal community with the convenience of onsite parking and handicapped accessibility. Call us at 207-767-4824, or contact us online to find out how we can help you.
Lawyers