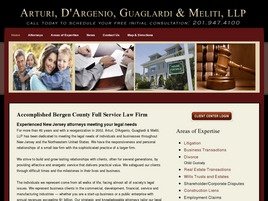 Arturi, D'argenio, Guaglardi & Meliti, Llp
Mack Center I, 365 West Passaic Street, Suite 130,

Rochelle Park

,

NJ

07662
Area Practice
Divorce
Child Custody
Criminal Defense
Municipal Bonds
Traffic Court
Shareholder Disputes
Business Transactions
Corporate Formation
Commercial Financing
Wills
Trusts And Estates
Public Utility Law
Discrimination
Construction Liens
Condominium Law
Complex Commercial Litigation
Real Estate Transactions
Property Disputes
Condemnation
Appellate Practice
Federal Practice
Computer Fraud
Child Support
Domestic Violence
Family Law
Collections
White Collar Crime
Foreclosures
Consumer Fraud
Paternity Arbitration
Litigation
Chancery Practice
Commercial Transactions
Employment Law
Business Law
Business Crimes
Business Formation
Business Start-Ups
Complex Business Litigation
Commercial Loans
Consumer Loans
Loan Restructuring
Class Action Defense
Commercial Real Estate
Commercial Real Estate Litigation
Shopping Center Acquisitions
Computer Crime
Contract Litigation
Leases And Leasing
Landlord And Tenant Law
Federal Litigation
Mortgage Finance
Mortgage Foreclosure
Negligence
Partnership Law
Property Law
Condominium Association Law
Real Estate Fraud
Residential Real Estate
Civil Rico
Contested Wills
Living Wills
Additional Info
Providing Individuals and Businesses, throughout Northern NJ, with Effective, Energetic and Responsive Legal Counsel for Over 60 Years.

For more than 60 years and with a reorganization in 2002, Arturi, D'Argenio, Guaglardi & Meliti, LLP has been dedicated to meeting the legal needs of individuals and businesses throughout New Jersey and the Northeastern United States. We have the responsiveness and personal relationships of a small law firm with the sophisticated practice of a larger firm.
We strive to build and grow lasting relationships with clients, often for several generations, by providing effective and energetic service that delivers practical value. We safeguard our clients through difficult times and the milestones in their lives and business.
The individuals we represent come from all walks of life, facing almost all of society's legal issues. We represent business clients in the commercial, development, financial, service and manufacturing industries ? whether you are a start-up business or a public enterprise with annual revenues exceeding $1 billion. Our strategic and knowledgeable attorneys tailor our legal services to provide practical solutions for the varied and complex issues you or your businesses face in an ever-changing legal environment. Your interests are our top priority as we navigate clients through the legal process ? from initial consultation to the completion of your legal matter.
Lawyers