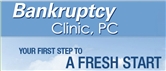 811 W Main St

Carbondale

,

IL

62901
Area Practice
Bankruptcy Law
Chapter 7 Bankruptcy
Chapter 13 Bankruptcy
Bankruptcy Chapter 7
Bankruptcy Chapter 13
Bankruptcy Chapter 12
Bankruptcy Chapter 11
Bankruptcy Litigation
Bankruptcy Reorganization
Bankruptcy Taxation
Commercial Bankruptcy
Commercial Foreclosure
Commercial Insolvency
Debt Relief
Consumer Bankruptcy
Debtor Bankruptcy
Foreclosures
Insolvency
Personal Bankruptcy
Repossessions
Liquidations
Additional Info
Your First Step to a Fresh Start

At the Bankruptcy Clinic, P.C., we understand that sometimes bad things happen to good people. You may have recently been laid off, suffered an unforeseen medical problem, struggled through a messy divorce, lost a valued love one, invested in a bad business venture, or simply made some mistakes along the way. That's okay. We understand. We are here to help!
At the Bankruptcy Clinic, P.C., we represent people from all walks of life. Honest, hard-working people who have gotten into financial difficulty through no fault of their own. We help give our clients the opportunity to build a better future for themselves and their families.
Our firm has extensive experience in all aspects of consumer bankruptcy. We understand the bankruptcy laws and work to obtain maximum debt relief for our clients, while enabling them to protect their property to the maximum extent possible.
Lawyers