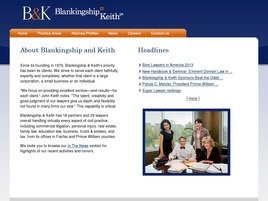 Blankingship & Keith, P.c.
4020 University Dr Ste 300

Fairfax

,

VA

22030
Area Practice
General Civil Practice
Litigation
Business Law
Contract Negotiation
Employment Law
Operations
Sale/Acquisitions
Tax Planning
Capitalization
Formation of Business Entities
Qualification and Operation of Non Profit
Tax Exempt Organizations
Commercial Real Estate
Eminent Domain
Sale/Purchase Transactions
Condemnation
Land Use
Zoning and Development
Leases
Creditors Rights
Foreclosures
Collections
Bankruptcy
Personal Injury
Brain Injury
Wrongful Death
Motor Vehicle and Trucking Accidents
Inadequate Security
Products Liability
Education Law
Disability/Special Education
Student Discipline
Privacy Law
Family Law
Divorce
Separation Agreements
Custody/Visitation Disputes
Child/Spousal Support
Estate Planning
Wills/Trusts/Estate Administration
Taxation
Federal, State and Local
Professional Responsibility
Ethics and Legal Malpractice
Legal Malpractice Defense
Arbitration
Alternative Dispute Resolution
Civil Litigation
U.S. Supreme Court Litigation
Federal Civil Litigation
Accidents
Automobile Accidents and Injuries
Automobile Negligence
Bicycle Accidents
Bus Accidents
Catastrophic Injury
Commercial Vehicle Liability
Head Injury
Motor Vehicle Accidents and Injuries
Motorcycle Accidents
Pedestrian Injuries
Plaintiffs Personal Injury
School Bus Accidents
Traumatic Brain Injury
Additional Info
Since its founding in 1979, Blankingship & Keith's priority has been its clients. We strive to serve each client faithfully, expertly and completely, whether that client is a large corporation, a small business or an individual.
"We focus on providing excellent service - and results - for each client," John Keith notes. "The talent, creativity and good judgment of our lawyers give us depth and flexibility not found in many firms our size." This capability is critical.
Blankingship & Keith has 19 partners and 28 lawyers overall handling virtually every aspect of civil practice, including commercial litigation, personal injury, real estate, family law, education law, business, trusts & estates, and tax, from its offices in Fairfax and Prince William counties.
Lawyers