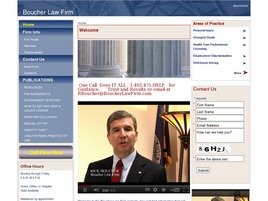 West Gate Bank Building, 5555 South 27th Street, Suite A,

Lincoln

,

NE

68512
Area Practice
Excellent Trial
Appellate Lawyers
Excellent Results
Additional Info
Excellence since 1980. Formidable resources to serve clients. Calls & emails answered promptly. Our Clients prosper. We can make a difference.

History
Premier Law Firm helping Clients throughout Nebraska since 1980.
It's important to know who can handle the challenges presented by your case. We are at your service. We provide insight well beyond the facts. We enhance your credibility. A tradition of excellence.
The hallmark of our success in cases of serious personal injury, wrongful death, rear end vehicle collisions, wrongful employment discharge and state regulatory investigation of health care professionals, has always been legal work of the highest quality performed by well prepared lawyers, devoted to their clients and who revere their profession.
We deliver focused, responsive and personalized service resulting in relationships with clients that extend beyond a quarter of a century.
Each day, every lawyer, every professional, renews our commitment to superior client service and to our profession and our communities.
Clients
Boucher Law Firm represents Individuals, Local Governments, Trade and Professional Organizations, Nonprofit Organizations, Risk Allocation Organizations, Businesses, Corporations, among others.
Specialties
Our firm has specialized experience in: Serious Personal Injury, Auto Accidents, Wrongful Death, Civil Appeals, Governmental Law, Healthcare Licensure and High End Employment Cases.
Lawyers