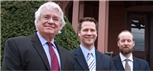 Bragdon, Dowd & Kossayda, P.c.
Po Box 465

Keene

,

NH

03431
Area Practice
Divorce
Family Law
Real Estate Development
Criminal Law
Civil Litigation
Personal Injury
Wills
Probate
Appellate Practice
Corporate Law
Conveyancing
Zoning Law
Planning Law
Trusts
Trusts And Estates
Municipal Bonds
Business Planning
Negligence
Civil Rights
Debtor And Creditor
Additional Info
Experience Skilled, Effective & Aggressive Legal Representation at Keene Law Firm

New Hampshire real estate, family law & business law/formation attorneys

Attorneys at Bragdon, Dowd & Kossayda, P.C. have more than 60 years of combined experience and are known for being your strongest advocates inside and outside the courtroom. Clients appreciate the professional, trustworthy and responsive legal service they find when they come to our law practice. These are strong advocates with compassion to understand you.

At Bragdon, Dowd & Kossayda, P.C., we have experience in numerous areas of business representation and formation, so that you won't require multiple law firms to provide preventive measures in your business' day-to-day operations. We also aggressively litigate on your behalf in any family law dispute. We have the skills, knowledge and resources to successfully help you with any real estate deal. Bragdon, Dowd & Kossayda are prepared to defend your criminal charges, including DWI and felony representation. If we aren't able to take a particular case due to a conflict or some other reason, we can refer you to firms that can handle your case in a competent and aggressive manner.