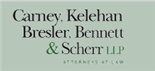 Carney, Kelehan, Bresler, Bennett & Scherr Llp
Hawthorn Executive Center, 10715 Charter Drive, Suite 200,

Columbia

,

MD

21044
Area Practice
Civil Litigation
Trial Practice
Trials In All Federal
State Courts
Administrative Law
Land Use
Zoning Law
Real Estate Development
Real Estate Finance
Mortgage Lending
Commercial Banking
Federal Practice
State Subsidized Mortgage Finance
Commercial Law
Construction Law
Corporate Law
Tax Law
Family Law
Probate
Estate Planning
Labor And Employment
Civil Rights
Public School Law
Local Government Law
Accidents
Personal Injury
Workers Compensation
Business Organization
Education Law
Additional Info
We earned our reputation for excellence.

Carney, Kelehan, Bresler, Bennett & Scherr is a mid-sized law firm with offices in Columbia, Md.; Annapolis, Md.; and Salisbury, Md. Our attorneys are known as consummate professionals who provide best-in-class service and collegiality that promote trust and earn the respect and admiration of our clients whether they are businesses, individuals or families in the Baltimore and Washington area.
By combining the legal expertise of the firm's tested veteran attorneys with the know-how and energy of our vibrant young lawyers and professionals, CarneyKelehan has the ability to respond seamlessly and completely to the particular and changing needs of our clients and our community.
Formerly known as Reese & Carney, our law firm adopted the name Carney, Kelehan, Bresler, Bennett & Scherr in 2008 in recognition of the contributions of its seasoned, active partners and to reflect the broad expertise and geographical reach of the law firm throughout Maryland.
CarneyKelehan has developed a thriving general law practice with several sub-specialties. CarneyKelehan attorneys are experienced in education, public school, real estate, land use and zoning, trusts and estates, taxation, business, labor, personal injury, and litigation in state and federal courts.
Lawyers