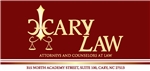 Cary Law / Miller & Associates
Po Box 3525

Cary

,

NC

27519
Area Practice
Criminal Law
Driving While Impaired
Juvenile Criminal Law
Traffic Violations
Bankruptcy
Foreclosures
Family Law
Adoption Law
Child Support
Child Custody
Divorce
Visitation Rights
Real Estate
Landlord And Tenant Law
Wills
Probate
Collections
Personal Injury
Automobile Accidents
Slip And Fall
Wrongful Death
Additional Info
Full service law for Individuals, Families & Small Business

Since 1995, CARY LAW / Miller & Associates has been a Full Service Law Firm for your Family and Small Business. In 2010, after serving Cary for 15 years, we assumed the name of CARY LAW. Cary Law wants to be your first stop when a legal problem arises in your family or business. Our staff can help you with most legal problems that arise, but if your problem involves an area of law where more specialization is needed, we can refer you to a trusted attorney or affiliate ourselves with another firm to assist us in our representation.
CARY LAW MISSION STATEMENT:
To honor God by serving Families, Individuals and their Businesses in difficult times and in prosperous times with competent legal representation and counsel.
PURPOSE:
Promote God's Kingdom by assisting individuals and families in their callings and service to the Kingdom, minister to the downtrodden, the condemned and the unjustly accused by offering them hope, comfort and witness that God is still in control and that his purposes in their life will be fulfilled.
Lawyers