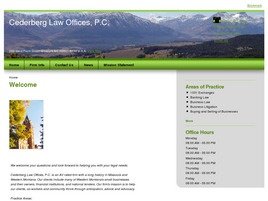 Cederberg Law Offices, P.c.
269 West Front Street,

Missoula

,

MT

59807
Area Practice
Business Law
Business Litigation
Buying And Selling Of Businesses
Family Business Law
Limited Liability Company Law
Partnership Law
Banking Law
Entity Formation
Mortgages
Creditor Bankruptcy
Commercial Bankruptcy
Foreclosures
Contracts
Corporate Law
Real Estate
Commercial Real Estate
Employment Law
Creditor Law
Collections
Creditors Rights
Elder Law
Estate Planning
Securities
Taxation
Estate And Gift Taxation
Guardianship And Conservatorship
Wills
Trusts
Probate
Special Needs Trusts
Judgment Domestication
1031 Exchanges
Bankruptcy
Bankruptcy Litigation
Bankruptcy Mediation
Commercial Foreclosure
Commercial Recovery
Insolvency.
Creditors Rights in Bankruptcy
Business Formation
Guardianship
Judgement Domestication
Mortgage Law
Securities Law
Living Trusts
Family Trusts
Trusts and Estates
Trusts and Estates Taxation
Contested Wills
Living Wills
Additional Info
Our firm handles legal matters in the following practice areas: Business Law, Business Litigation, Buying and Selling of Businesses, Family Business Law, Limited Liability Company Law, Partnership Law, Banking Law, Entity Formation, Mortgages, Creditor Bankruptcy, Commercial Bankruptcy, Foreclosures, Contracts, Corporate Law, Real Estate, Commercial Real Estate, Employment Law, Creditor Law, Collections, Creditors Rights, Elder Law, Estate Planning Law, Securities, Taxation, Estate and Gift Taxation, Guardianship and Conservatorship, Wills, Trusts and Probate, Special Needs Trusts, Judgment Domestication, 1031 Exchanges.
Lawyers