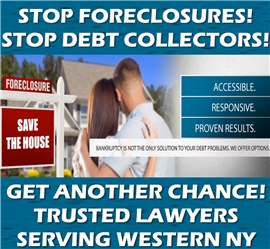 One East Main Street, Eighth Floor,

Rochester

,

NY

14614
Area Practice
Bankruptcy
Bankruptcy Chapter 11
Bankruptcy Chapter 13
Bankruptcy Chapter 7
Bankruptcy Litigation
Commercial Bankruptcy
Commercial Foreclosure
Consumer Law
Debt Relief
Debtor Bankruptcy
Foreclosures
Foreclosure Defense
Liquidations
Out of Court Debt Restructuring
Personal Bankruptcy
Pre-Bankruptcy Workouts
Workouts
Consumer Protection
Fair Credit Billing Act
Fair Debt Collection Practices Act
Fair Credit Reporting Act
Identity Theft
Creditor Harrassment
Debtors Rights
Predatory Lending
Mortgage Fraud
Unwanted Solicitations
Repossessions
Civil Litigation
Additional Info
Worried About Losing Your House? Need Help with Foreclosure Defense or a Loan Modification? We Can Help! Offices in Rochester, Buffalo & Syracuse.

We Can STOP Debt Collection Calls and Harassment, Defend Debt Collection Lawsuits and SUE Debt Collectors That Violate Your Rights!

The team at Coccia Law Firm is at your service. We offer reliable advice and representation in legal matters concerning credit and debt. While we try to help people with any legal need they might have, either directly or through an associated firm, there are two things we do most. WE CAN DEFEND YOU IF YOU GET SUED. If you receive a "Summons and Complaint" you must respond properly and quickly to avoid a default judgment which can lead to wage garnishments, liens on property, bank account seizures and other unpleasant situations. If you are sued by a third-party debt buyer we can usually get the case dismissed or discontinued, resulting in you owing them nothing! If you are sued by the original creditor, we might be able to get the same result, or can usually at least negotiate a reasonable settlement. WE SUE DEBT COLLECTORS that violate peoples' rights. Debt collectors and their attorneys must follow several State and Federal laws while attempting to collect a debt. Based on our experience, and that of our clients, the Federal Trade Commission, various State and Federal Attorneys Generals and court decisions around the country, it is safe to conclude that the industry continues to fail to completely comply with these decades old laws.

If a debt collector violates your rights under the Fair Debt Collections Practices Act (FDCPA) or the Fair Credit Reporting Act (FCRA), they can be sued for statutory damages up to $1,000 (a civil fine), any actual damages, and when you succeed they have to pay your attorney fees and costs too. Contact us today!.