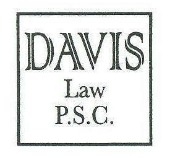 230 N 2nd St

Richmond

,

KY

40475
Area Practice
Civil Law
Personal Injury & Wrongful Death
Auto Accidents
Social Security Disability
Bankruptcy
Real Estate
Probate
Divorce & Family Law
Medical Malpractice
Contracts
Corporate Formation
Lemon Law Claims
Additional Info
Over 20 Years Experience in Solving Problems Just Like Yours. No Fee For Personal Injury and Disability Claims Unless You Receive Compensation. Free Consultation.

Serving Madison and Estill counties with distinction since 1995

From our offices in Richmond and Irvine, Davis Law, P.S.C. offers clients ideal representation. Our attorneys have exceptional skills and success in the courtroom - and they treat you like a neighbor.

Our attorneys live, work, and believe in our small communities and the people who reside here. The values we live by are apparent in how we conduct our business every day.

Yet, our legal practice and courtroom talents rival those of attorneys anywhere:

-Some of the firm's attorneys are members of the Million Dollar Advocates Forum

-We have tried countless cases before Madison and Estill County juries

-We have negotiated substantial out-of-court settlements for hundreds of clients

Our clients find the level of experience they need, right here at home.

Kentucky lawyers for every stage of your life

Clients trust us with family and business matters, when all is going well, and when something has gone horribly wrong. Our practice particularly emphasizes:

-Civil law

-Personal injury & wrongful death

-Auto accidents

-Social Security disability

-Bankruptcy

-Real estate

-Probate

-Divorce & family law

People who hire us do so again and again

Davis Law attorneys build a lasting rapport with clients. Consequently, clients seek our guidance many times throughout their lives. And, more importantly, their experience is so positive that they refer brothers, sisters, aunts, uncles, and cousins to us.