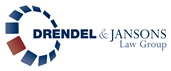 Drendel & Jansons Law Group
111 Flinn St

Batavia

,

IL

60510
Area Practice
Family Law
Divorce
Child Custody
Business Law
Business Formation
Buying and Selling
Estate Planning
Wills and Probate
Trusts and Estates
Commercial Litigation
Appellate Practice
Child Support
Adoptions
Breach of Contract
Business Planning
Civil Unions
Contracts
Corporate Law
Paternity
Visitation Rights
Commercial Real Estate
Collections
Contest Wills
Family Business Law
Estate and Gift Taxation
Estate Litigation
Homeowners Association Law
Inheritance
Limited Liability Company Law
Mechanics Liens
Partnership Law
Nonprofit and Charitable Organizations
Powers of Attorney
Premarital Agreements
Zoning, Planning and Land Use
Bankruptcy
Debt Relief
Debtor Bankruptcy
Foreclosures
Personal Bankruptcy
Business Organization
Business Start-Ups
Business Transactions
Business Transfers
Buy-Sell Agreements
Buying and Selling of Businesses
Small Business Law
Commercial Real Estate Acquisitions
Commercial Real Estate Development
Commercial Real Estate Sales
Family Corporations
Incorporation
Nonprofit Corporations
S Corporations
Small Business Corporations
Collaborative Family Law
Divorce Arbitration
Divorce Mediation
Domestic Violence
Gay and Lesbian Family Law
International Family Law
Legal Separation Agreements
Military Divorce
Post Divorce Modification
Postnuptial Agreements
Qualified Domestic Relations Orders (QDROs)
Spousal Support
Uncontested Divorce
Probate Administration
Real Estate
Mixed Use Development
Planned Unit Development Law
Real Estate Contracts
Real Estate Development
Real Estate Exchanges
Real Estate Foreclosure
Real Property
Real Property Development
Residential Real Estate
Estate Administration
Estate Planning for Parents of Handicapped Children
Estate Planning for the Elderly
Estate Planning for Unmarried Couples
Family Trusts
Living Trusts
Special Needs Trusts
Trust Administration
Trust and Estate Collections
Trust Law
Trust Planning
Additional Info
Professionals with a personal touch incorporating tradition on the cutting edge.

We provide legal services to local businesses and families. We are personable, responsive, and trustworthy. We not only represent local community members, we are also involved in the local community.
We know and understand our clients' needs and goals. We work diligently to protect clients' interests, to reduce and eliminate liabilities, to give thoughtful counsel and advice, to plan for the future, and to minimize liabilities from the past.
We practice in many areas of the law. We do business and corporate law, including corporate and LLC formation, providing general counsel to businesses, reviewing, drafting and negotiating all types of contracts, handling sales and acquisitions, etc. We even have a program for ongoing, unlimited advice for $50 a month ($500 a year) -- the Business Call In Program.
We practice family law, including divorce, child support, spousal support, adoptions, guardianships, etc.
We do real estate law, including sales and purchases, residential and commercial, land use and development, zoning, and just about anything having anything to do with real estate.
We do estate planning and administration, including drafting wills, trusts, powers of attorney, living wills, etc. We handle the administration of estates, including probate administration, guardianship, and trust administration.
We do other things that are too many to list in this short space. If we do not do it, we know someone who does. We maintain close relationships with other attorneys and professionals who do things we do not do. These are people that we implicitly trust. We would not refer anyone to someone we would not trust with our own matters.
Our attorneys practice in the following areas:
- Family Law, including Divorce, Custody, Support, Paternity, Visitation, Maintenance and Adoptions
- Corporate and Business Planning, Organization & Ongoing Representation
- Estate Planning, including Wills, Trusts, Powers of Attorney and Living Wills
- Estate and Trust Administration
- Elder Law
- Real Estate Sales, Acquisitions, and Development/Zoning
- Real Estate Closings and Post Closing Litigation
- Commercial and Civil Litigation including minor personal injury matters
- Construction Law
- Small Business Representation and Litigation
- Collections and Liens
- Bankruptcy (Chapter 7 & 13)
- Trials and Appeals in State Court
- Municipal Law
- School Law
Lawyers