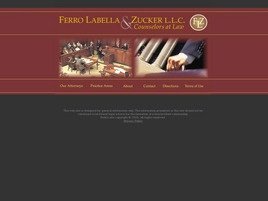 Ferro Labella & Zucker L.l.c.
The Landmark Building, 27 Warren Street,

Hackensack

,

NJ

07601
Area Practice
General Practice
Corporate Law
Business Organizations
Federal Practice
State Commercial Litigation
Real Estate Leasing
Real Estate Finance
Real Estate Development
Re-Development
Real Estate
Banking Law
Secured Financing
Mergers And Acquisitions
Estate Planning; Estate Administration
Tax Law
Tax Controversy
Elder Law
Wills
Trusts
Special Needs Planning
Probate
Criminal Defense
White Collar Criminal Defense
Additional Info
Attorneys at Law

Ferro Labella & Zucker L.L.C. provides the experience and knowledge corporate and individual clients require succeeding. The firm offers a full array of legal services to assist clients in capitalizing on opportunities and managing risk. The hallmark of Ferro Labella & Zucker L.L.C. is the ability of its attorneys to recognize and understand clients' goals and business needs and provide insight necessary to achieve these goals and fulfill these needs. The firm delivers the highest caliber representation in a timely and cost-efficient manner with its multi-disciplined practice and its talented, creative, and experienced attorneys.
Ferro Labella & Zucker L.L.C. is located in the historic Landmark Building in Hackensack, New Jersey, the Bergen County seat, and also has an office in White Plains, New York. Founded by Michael J. Ferro, Jr. in 1978, the firm focused on providing corporate counseling to businesses and their executive management. The firm's practice areas have expanded considerably over the years to include commercial litigation, fiduciary and probate litigation, tax, commercial real estate, internal compliance investigations, estate planning, white collar defense, and related specialties. The firm has continued to meet the challenges clients face in a rapidly changing business environment by expanding into areas such as information technology, employment and health-care law. Ferro Labella & Zucker L.L.C. maintains the highest ratings possible with Martindale-Hubbell, including membership in the Bar Register of Preeminent Lawyers. All of our Members have been selected for inclusion in Super Lawyers Magazine by Law & Politics.
Lawyers