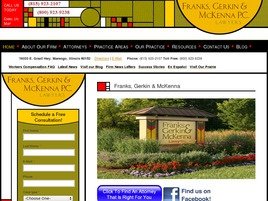 Franks, Gerkin & McKenna, P.c.
19333 E Grant Hwy

Marengo

,

IL

60152
Area Practice
Personal Injury
Car Accident Injuries
Truck Crashes
Motorcycle Accidents
Workers' Compensation
Divorce, Custody, and Support
Estate Planning and Probate
Criminal Defense
Land Use & Zoning
Real Estate Transactions
Business Law
Litigation
Bankruptcy
Family Law
Real Estate
Additional Info
We're the team you want fighting for you. Demanding justice since 1972.

Franks, Gerkin & McKenna, P.C. was founded in 1972 by Herbert H. Franks. He was joined by Peggy D. Gerkin in 1990, Terrence J. McKenna in 1992, Jack D. Franks in 1993 and Steve Greeley, Jr. in 2006. The firm now consists of nine lawyers who serve both individuals and business clients. Since its formation, the firm has provided its clients with the high level of legal expertise and experience typically associated with large firms, but with the cost-effectiveness and personal attention found in smaller firms. The firm's continuous growth reflects their clients' satisfaction with the quality of professional service they receive.
Lawyers