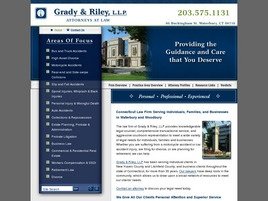 86 Buckingham St

Waterbury

,

CT

06710
Area Practice
Bus and Truck Accidents
High Asset Divorce
Motorcycle Accidents
Rear-end and Side-swipe Collisions
Slip and Fall Accidents
Spinal Injury
Whiplash
Back Injuries
Personal Injury
Wrongful Death
Auto Accidents
Collections
Repossessions
Estate Planning
Probate
Probate Administration
Probate Litigation
Business Law
Commercial Real Estate
Residential Real Estate
Workers Compensation
SSDI
Retirement Law
Divorce
Elder Law
Elder Care
Dram Shop Liability
Liquor Liability
Airbag Injury
Asset Recovery
Bank Collections
Bank Failures
Bank Foreclosures
Commercial Loans
Consumer Banking
Consumer Loans
Credit Union Law
Lender Law
Loan Workouts
Child Custody
Child Support
Visitation Rights
Commercial Collections
Garnishments
Post Judgment Collections
Professional Collections
Retail Collections
Secured Collections
Unsecured Collections
Commercial Real Estate Contracts
Commercial Real Estate Finance
Commercial Real Estate Foreclosure
Commercial Real Estate Litigation
Commercial Real Estate Sales
Construction Accidents
Construction Claims
Construction Defects
Mechanics Liens
Materialmens Liens
Contractors Liability
Consumer Collections
Breach of Contract
Additional Info
Founded in 1971, under the leadership of attorney Francis Grady, the law firm of Grady & Riley, LLP, has long been seen as a vital part of the community in Waterbury, Connecticut and all of the surrounding towns. In addition to providing vital legal services to individuals, families, and businesses in the area, our lawyers serve on numerous nonprofit boards and commit long hours to ensuring the health and vitality of our community.
In 1980, attorney Thomas V. Riley opened his office in Woodbury, Connecticut.
The law firm of Grady & Riley was founded in 1984. Our attorneys provide a wide range of legal services. But we believe this diverse service offering provides our clients with some distinct advantages:
- When your legal concern does not fit neatly into one category, we have attorneys with the experience and knowledge to handle your case. For example, our extensive experience working with injured municipal workers and our tax planning, estate planning, and probate administration experience, allows us to help workers plan for the tax consequences of various forms of retirement or disability income.
- When your legal concern requires an in-depth knowledge of financial matters, we have an attorney-CPA on staff who can ensure that business, retirement, and tax matters are all considered.
Another distinguishing feature of our law firm, in which we take great pride, is the outstanding longevity of our staff. The majority of our 30 employees have been with the firm for 10 to 25 years, a clear sign of a good work environment and an efficient team effectively able to meet the needs of clients.
We maintain a strong commitment to providing professional legal service in a friendly and comfortable office. We invite you to visit one of our offices during regular business hours, 8am to 5pm, or after hours by special appointment. Our Woodbury office is located at the intersection of Route 6 and 64. Our Waterbury office is 5 minutes from Route 8 and I-84, and 5 minutes from the Waterbury Green.
Contact our law offices to schedule an appointment with a Waterbury and Woodbury, Connecticut attorney.
Lawyers