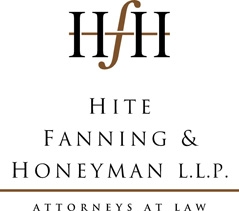 Hite, Fanning & Honeyman L.l.p.
100 N Broadway Ave Ste 950

Wichita

,

KS

67202
Area Practice
General Practice
Civil Practice
Business Law
Health Care
Medical Malpractice Defense
Dental Malpractice
Hospital Law
Nursing Liability
Professional Licensing
Banks And Banking
Insurance
Torts
Insurance Defense
Professional Liability
Personal Injury
Construction Law
Labor And Employment
Alternative Dispute Resolution
Appellate Practice
Corporate Law
Bankruptcy
Commercial Law
Unfair Competition
Contracts
Environmental Law
Mergers And Acquisitions
Natural Resources
Estate Planning
Wills
Trusts And Estates
Probate
Real Estate
Mortgages
Workers Compensation
Family Law
Governmental Liability
Local Government Civil Rights
Additional Info
Our attorneys provide cost-effective legal services that produce results through dedication and expertise. We have learned the efficiencies inherent in an outstanding staff, supported by the latest office technologies.
The quality and intensity of our legal representation is unwavering. Our client list suggests the firm's sophistication and reputation. The length of those clients' tenure underscores the firm's commitment to open communication, broad capabilities and specialized talent, and to the focused solution of individual problems.
Lawyers