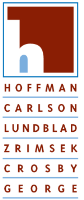 Hoffman, Hamer & Associates, Pllc
118 - 1st Ave.,

Faribault

,

MN

55021
Area Practice
Purchase Agreement
Contract for Deed
Deed
Real Estate Closing
Title Insurance
Adverse Claims
Mortgage Foreclosure
Divorce
Child Custody
Parenting Time
Child Support
Spouse Maintenance
Paternity
Termination of Rights
Estate Will
Estate Trust
Health Care Directive
Powers of Attorney
Probate
Guardianships
Conservatorships
Business Law
Criminal Defense
Bankruptcy
Additional Info
At the Hoffman, Carlson, Lundblad, Zrimsek, Crosby and George Law Offices, our experienced Minnesota attorneys serve clients needing family law, real estate, wills and trusts, probate, guardianship, bankruptcy and criminal defense needs.

The Hoffman Law Firm is focused on providing exceptional attorney services to businesses and individuals alike. The Minnesota attorneys at our law office handle all types of law related cases including family law, real estate, wills and trusts, probate, guardianship and criminal defense needs.
Quality Law Services means meeting clients business and personal goals on all fronts of a legal dispute. Quality to Hoffman Law Offices also means value. By providing prices at the beginning of our legal work our clients can forecast the total legal fees and budget accordingly. Hoffman Law Offices wants to be your choice for a qualified lawyer.
The Hoffman Law Offices realize all of our clients are unique, and as such, they all have unique issues that deserve our full and complete attention.
At Hoffman, Carlson, Lundblad & Zrimsek, Attorneys at Law, our staff of lawyers provide a wide variety of services within Minnesota. Several areas of practice include, real estate, family law, end of life planning, probate, guardianships and conservatorships, business formation and planning, and criminal defense.
Hoffman Law Offices of Minnesota is proud of the outcomes of our attorneys cases and the experience that comes from them. And although the facts of each case will differ, our law firm believes that hard work and a commitment to excellence are major factors in the law firm's success. We pass this belief on to each case we chose to represent.
Our attorneys endeavor to achieve the best outcome for every client, but the results listed here are not intended as guarantees or forecasts of specific results in any particular case.
Lawyers