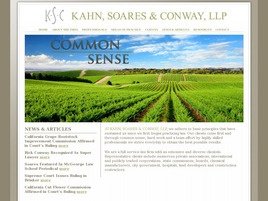 Kahn, Soares & Conway, Llp
1415 "l" Street, Suite 400,

Sacramento

,

CA

95814
Area Practice
Administrative Law
Agricultural Law
Civil Law
Criminal Litigation
Corporate Law
Partnership Law
Employment Law
Environmental Law
Estate Planning
Probate
Family Law
Labor Law
General Business Litigation
Immigration Law
Intellectual Property
Land Use
Mobile Home Law
Municipal Bonds
Special Districts
Natural Resources
Non-Profit Associations
Personal Injury
Political Law
Proposition 65
Real Estate
Water Law
State Government Advocacy
Federal Governmental Advocacy
Additional Info
At Kahn, Soares & Conway, LLP we adhere to basic principles that have sustained us since we first began practicing law. Our clients come first and through common sense, hard work and a team effort by highly skilled professionals we strive everyday to obtain the best possible results.

We are a full-service law firm with an extensive and diverse clientele. Representative clients include numerous private associations, international and publicly traded corporations, state commissions, boards, chemical manufacturers, city government, hospitals, land developers and construction contractors.

The firm presently consists of fourteen attorneys, all of whom are members of the California State Bar, three registered governmental advocates, and support staff. With offices in Sacramento and Hanford, California, we represent clients at both the state and national levels. The firm litigates before state, federal, trial and appellate courts in California and other states, regularly appears before the California State Legislature and numerous state and federal administrative agencies.

Kahn, Soares & Conway, LLP is well equipped to benefit clients in all aspects of their business by offering practice areas that include state and federal legislative and administrative advocacy, civil and criminal litigation, personal injury, estate planning, family law, and agricultural, business, employment, general corporate, environmental, municipal, non-profit association and corporation and real estate law.