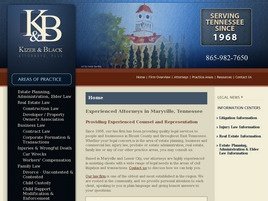 Kizer & Black, Attorneys, Pllc
329 Cates St

Maryville

,

TN

37801
Area Practice
General Civil Practice
Federal Practice
Commercial Law
Business Law
Personal Injury
Workers Compensation
Elder Law
Products Liability
Probate
Estate Planning
Real Estate
Trial Practice
Appellate Practice
Commercial Litigation
Construction Law
Corporate Law
Eminent Domain
Health Care
Medical Malpractice
Municipal Bonds
Zoning Law
Professional Liability
Trusts And Estates
Wills
Additional Info
Attorneys at Law

Our law firm, Kizer & Black, Attorneys, PLLC, was founded in Maryville, Tennessee, in 1968 and has been growing steadily ever since, to the point where we now have 11 attorneys providing legal services to clients throughout East Tennessee.
From the small business owner who needs help drafting commercial contracts to the grieving family seeking to bring a wrongful death action against a drunk driver, we provide a consistently high level of service. Contact us to discuss your own legal circumstances and goals.
Sophisticated Legal Practice With an Old-Fashioned Attitude We are an established law firm providing old-fashioned personal attention to each of our clients, but we also embrace the latest technology for case management and presentation.
Our use of technology and the contributions of our experienced professional staff have substantial benefits for clients in all of our practice areas, from real estate and business law to personal injury and wrongful death.
Our legal accomplishments have been recognized by our peers, earning our firm the AV Peer Review Rating* and attracting many client referrals from lawyers outside the region and state.
A Friendly Atmosphere for Client Consultations Our main offices are uniquely located in a series of historic houses in Maryville, right across from the old courthouse. In this friendly atmosphere, our attorneys provide personalized, professional legal services, meeting with clients one-on-one and taking the time to respond to questions and concerns.
Contact us to schedule a time that works well for you.
Lawyers