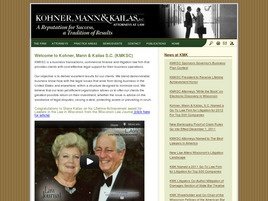 Kohner, Mann & Kailas, S.c.
Washington Building, 4650 N. Port Washington Road,

Glendale

,

WI

53212
Area Practice
Administrative Law
Agricultural Law
Alternative Dispute Resolution
Antitrust And Trade Regulation
Appellate Practice
Arbitration
Banking Law
Business Law
Business Litigation
Class Actions
Commercial Bankruptcy
Commercial Collections
Commercial Law
Construction Law
Contracts
Corporate Law
Creditors Rights
Debtor And Creditor
Employment Law
Energy Law
Environmental Law
Finance
Foreclosures
Insurance
Intellectual Property
International Law
International Trade
Investment Law
Leasing
Litigation
Mediation
Product Liability
Professional Liability
Secured Transactions
Securities
Transportation
Trial Practice
Additional Info
Champions of business interests in commercial transactions, litigation and appellate practice, ADR and all aspects of lender and international business-to-business creditors' rights for over 70 years.

Founded in 1937, Kohner, Mann & Kailas, S.C. is a business and commercial law firm listed in Martindale-Hubbell's Bar Register of Preeminent Lawyers. KMKSC is also a member of the International Society of Primerus Law Firms. KMKSC provides quality legal expertise across the areas of law encountered by businesses in the course of their operations and growth. Our services range from high-profile appellate representation and international business issues to ensuring that critical everyday needs, such as debt recovery, are fulfilled efficiently and expertly. Our purpose is to deliver excellent results for our clients, whether the issue is advice on the avoidance of legal disputes, negotiating a contract, protecting assets or winning in court. KMKSC is continually advancing the interest of its clients in negotiations, transactions, litigation and alternative dispute venues across North America and beyond. We help U.S. companies address the legal issues raised by trading across international borders and provide legal support and advice to foreign companies operating in American markets.
Businesses have different in-house legal capabilities. We specifically tailor our legal service to complement, not duplicate, the internal resources of an individual client. We seek to understand the particular operational needs of our clients, as well as industry practices and trends, to minimize expenses.
KMKSC attorneys work regularly with corporate counsel and selected local co-counsel, both in North America and elsewhere. We are constantly acting as associated counsel in litigation and transactional undertakings. We strive to add value to and develop long-term relationships with corporate counsel and associate counsel, to deliver the desired return to a client in a cost-effective manner.
Lawyers