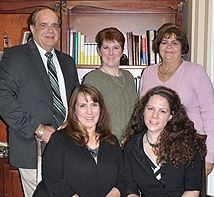 338 Elm St

Gardner

,

MA

01440
Area Practice
Bankruptcy
Consumer Law
Family Law
Divorce
Child Custody
Child Support
Visitation Rights
Adoption Law
Personal Injury
Slip And Fall
Dog Bites
Automobile Accidents
Labor And Employment
Americans With Disabilities Act
Discrimination
Sexual Harassment
Wrongful Termination
Criminal Law
Drug Crimes
DUI/DWI
Driving While Intoxicated
Juvenile Criminal Law
Traffic Violations
Landlord And Tenant Law
Consumer Bankruptcy
Foreclosures
Bankruptcy Chapter 11
Bankruptcy Chapter 12
Bankruptcy Chapter 13
Bankruptcy Chapter 7
Additional Info
A Service-Oriented General Practice. Night and Weekend Appointments Available. Payment Plans Available. MasterCard and Visa Accepted.

With more than 20 years of experience, LaRoche Law guides clients experiencing financial difficulties with dignity and respect. Attorney Paul A. LaRoche personally meets with every client, and we promptly return your phone calls and emails. Our firm treats each client professionally and courteously, informing you of all updates every step of the way. Our appointments work with your schedule, including evenings, and weekends. We provide you with the resources you need to make informed decisions. If filing bankruptcy is your best option, we will walk you through the legal process from beginning to end.
At LaRoche Law, your bankruptcy attorney explains how bankruptcy can help you regain control over your personal finances after the economic turmoil that can follow divorce, job loss, identity theft, medical procedures or a disability.
We believe that everyone has options and no situation is hopeless. LaRoche Law is in the business of helping you get back on track.
LaRoche Law serves all your legal needs. Even after your case is settled, we answer follow-up questions. We proudly serve the citizens of Orange, Fitchburg and Gardner and Worcester in the following areas:
Bankruptcy law — As the largest filer in Worcester County, we offer a full range of bankruptcy services.
Family law — We resolve divorces, alimony and child custody disputes fairly and reasonably..
Landlord and tenant law —If your landlord breaks promises, withholds your security deposit or evicts you, we can work on your behalf.
Employment law — We represent Massachusetts employees in workers compensation, disability and harassment claims.
Criminal and civil trials — We litigate all types of criminal and civil issues in court. If your issue is not resolved by negotiations, we take your case to trial and fight aggressively on your behalf.
Lawyers