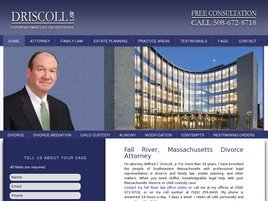 Law Offices Of Attorney Wilfred C. Driscoll, Jr.
209 Bedford St Ste 201

Fall River

,

MA

02720
Area Practice
Adoptions
Annulment
Asset Protection
Automobile Accidents
Bankruptcy
Bankruptcy Chapter 7
Breach of Contract
Business Formation
Business Law
Child Abuse and Neglect
Child Custody
Child Support
Civil Litigation
Civil Practice
Collaborative Family Law
Consumer Bankruptcy
Contracts
Criminal Law
Divorce
Dog Bites
Domestic Violence
Drivers License Suspension
Drug Crimes
DUI/DWI
Elder Law
Estate Litigation
Estate Planning
Expungements
Family Law
Fathers Rights
General Practice
Inheritance
Juvenile Law
Landlord and Tenant Law
Legal Separation
Litigation
Mediation
Medicare and Medicaid
Misdemeanors
Parole and Probation
Personal Injury
Real Estate
Residential Real Estate
Restraining Orders
Slip and Fall
Social Security
Social Security Disability
Traffic Violations
Trusts and Estates
Visitation Rights
Wills and Probate
Workers Compensation
Wrongful Death
Additional Info
Experience Makes All the Difference.

I'm attorney Wilfred C. Driscoll, Jr. For more than 34 years, I have provided the people of Southeastern Massachusetts with professional legal representation in divorce and family law, estate planning, and other matters.
What sets my firm apart, and why so many of my clients refer friends and family to me when they have a legal problem, is superior service. I am highly accessible to my clients. I give every client my cell phone number. They can call 24/7. If I can't immediately take a call, I call back within 24 hours.
I also give my clients the time and attention they need. This is often their first interaction with the law and the court system. I understand that it can be confusing and even frustrating. I make sure my clients understand the process and what is happening with their case. I answer questions honestly and often. My clients want a lawyer who listens to them and that's what I do.
Areas of Practice
• Family Law
• Contested and uncontested divorce
• Child Custody
• Property Division
• Estate Planning
• Estate Litigation
• Guardianship
• Criminal Defense
• Real Estate
• Personal Injury
• Bankruptcy.
Lawyers