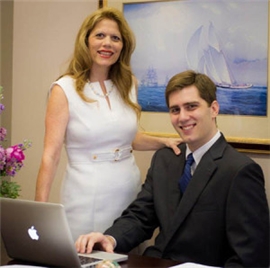 Law Offices Of Carol M. Galloway P.a.
135 W Adams St

Jacksonville

,

FL

32202
Area Practice
Bankruptcy Chapter 7
Bankruptcy Chapter 13
Consumer Bankruptcy
Bankruptcy
Bankruptcy Arbitration
Bankruptcy Chapter 11
Bankruptcy Chapter 12
Bankruptcy Collections
Bankruptcy Fraud
Bankruptcy Litigation
Bankruptcy Mediation
Commercial Bankruptcy
Commercial Foreclosure
Creditor Bankruptcy
Debt Relief
Debtor Bankruptcy
Foreclosures
Out of Court Debt Restructuring
Personal Bankruptcy
Repossessions
Asylum
Business Immigration
Citizenship
Consular Law
Deportation
Employment Authorizations
Employment Immigration
Employment Visas
Family Immigration Law
Investor Visas
Permanent Visas
Refugee Law
Removal Proceedings
Visas
Additional Info
Providing bankruptcy solutions in Florida for more than 13 years and Immigration assistance for 2 years. Get the Experience you need when you need it the most. Call us today we can help!

We are committed to providing you with superior service.

Law Offices of Carol M. Galloway, P.A. is a respected law firm advocating for clients in Chapter 7 Bankruptcy, Chapter 11 Bankruptcy and Chapter 13 Bankruptcy cases. Based in Jacksonville, we are familiar with the courts throughout all of Florida. Our attorneys have the necessary skill to help you resolve your legal problem. With 15 years of experience, we are focused on your success. Please read our profiles to learn more about our professional backgrounds.

Our attorneys are knowledgeable in multiple areas of the law:

Law Offices of Carol M. Galloway, P.A. has a thorough understanding of Florida law. Our lawyers work hard to help you get the best possible results in the following practice areas:

Chapter 7 Bankruptcy: If you find yourself unable to pay your bills, Chapter 7 bankruptcy may be the best option for you. Through this form of bankruptcy, you and your spouse get debt relief by liquidating your assets. Our experienced attorneys can help you determine if this is the right choice for you situation.

Chapter 11 Bankruptcy: If your business, corporation, partnership or sole proprietorship is struggling with substantial debt, Chapter 11 bankruptcy may help you keep your business operating while you pay off your loans. Our experienced attorneys can help you through the complicated bankruptcy process.

Chapter 13 Bankruptcy: Chapter 13 bankruptcy allows you to pay off your debt in installments over a period of three to five years. Our experienced attorneys can help you determine if this is the best option for you to help you secure your financial future.

Debt Collections – Debtor's Side: Whether you owe a debt you are unable to pay or are being mistakenly targeted by collection agencies, you do not deserve to abused by a creditor or collection agency. Our attorneys help you through the debt collection process, getting you the compensation you deserve for harassment from a collector.

Mortgage Loan Modifications: – Our Firm can assist you in helping you keep your home. We will work with your mortgage lender in an effort to try to reduce your monthly payment and deal with the back payment, or arrearage that you have not paid. We will try to reduce your monthly payment, your interest rate and the arrearage owed on your mortgage loan.

Immigration - Our Firm can assist you with your immigration case whether it be family or employment-sponsored request. We prepare paperwork and provide legal opinions regarding the Immigration and Nationality Act, USCIS procedure, and the criteria for immigration benefits.