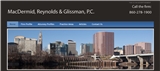 MacDermid, Reynolds & Glissman, P.c.
86 Farmington Ave

Hartford

,

CT

06105
Area Practice
Commercial Real Estate
Business Law
Litigation
Disputes
Additional Info
Commercial Real Estate Transactions; Litigation, Workouts, Restructuring and Dispute Resolutions; Development and Joint Ventures; Mortgage and Mezzanine Lending; Commercial Real Estate Brokerage.

COMMERCIAL REAL ESTATE AND BUSINESS
Loan and lease workouts and solutions
Multi-state and portfolio transactions
Leasing retail, office, multifamily, industrial
Financial transactions including conventional, conduit, CMBS, HUD, Freddie Mac, Fannie Mae, CHFA, DECD and defeasance
Land assemblage and development including shopping centers, office parks, industrial parks, multi-family and single family residential, golf courses, marinas, hotels, resorts, mixed use and phased developments
Transaction structuring
Land use permitting including local, regional, state and Army Corps including zoning, subdivision, special development districts, wetlands, department of transportation, sewer, water and other utilities and appeals
Due diligence including survey, title, environmental Phase I and Phase II's, Transfer Act and UST's, permits compliance and transfer, lease and contract review
Joint venture and entity formation and agreements
Hotel acquisition, disposition, financing and operations
Corporate facilities management, acquisition and disposition
Roof top antennae and tower communications agreements
Title matters including easements (OEA's, REA's and conservation)
Construction, architect, engineering, bond and management agreements and enforcement
Commercial real estate brokerage representation including licensing issues, listing agreements, collection and enforcement, co-brokerage disputes, administrative and board level enforcement actions and defense
1031 tax-deferred exchanges
LITIGATION AND DISPUTES
Full array of civil and commercial litigation in all courts
Partnership, shareholder and member dispute
Contract, insurance coverage, fidelity/surety, asset recovery and collection litigation
Landlord/tenant dispute resolution, enforcement and eviction litigation
Lender/debtor dispute resolution, enforcement, foreclosure and workout litigation
Alternative dispute representation, third party mediation and court annexed mediation
Tax appeals from local administrative through Connecticut Superior Court and the Supreme Court
Employment and family law
Professional liability defense and assertion
Probate litigation.
Lawyers