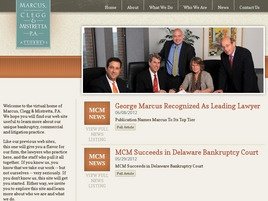 Marcus, Clegg & Mistretta, P.a.
1 Canal Plz Ste 600

Portland

,

ME

04101
Area Practice
General
Corporate Law
Commercial Practice
Mergers And Acquisitions
Commercial Law
Finance
Litigation
Bankruptcy
Reorganization
Creditors Rights
Additional Info
Representing Clients in all phases of corporate and commercial law.

In 1996, George Marcus, Steve Grygiel and Jennie Clegg, three former partners of Maine's largest law firm, founded Marcus, Grygiel & Clegg, P.A. Soon thereafter, Lynn Mistretta left another large Portland firm to join us, and on July 1, 2000, we changed the name of the firm to Marcus, Clegg & Mistretta, P.A. ("MCM" - the last defined term you will see on this website, we promise).
The firm was organized in the belief that in the environment we wanted to create, we could do a more effective job representing corporate, commercial and individual clients in complex and challenging matters, derive greater satisfaction from doing so, and have more fun to boot. All of this has turned out to be true, and our clients have recognized the value that the firm has added to their businesses and interests.
Over the years, some things about our practice - personnel, office space, and technology - have changed. Our core values, however, have stayed the same. We seek excellence in creative and zealous advocacy and execution - and, of course, in the results. We get involved in hands-on fashion with our clients' businesses and other interests. We use our expertise and experience in a practical and common sense way. And we do all of this efficiently and cost-effectively.
When clients call us, they can count on getting prompt and practical answers that actually work. We are proud when clients tell us that ten minutes on the phone with one of us accomplished more than an hour spent with others. We may end up with fewer billable hours with each client, but we have more time for more clients. That is how it is supposed to work; it is what we hoped to accomplish from the moment we opened our doors.
Lawyers