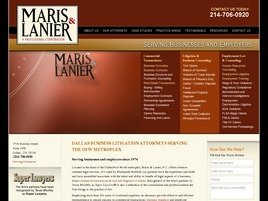 Regency Plaza, Suite 1550, 3710 Rawlins Street,

Dallas

,

TX

75219
Area Practice
Litigation and Business Counseling
Tort Claims
Breach of Contract
Violation of Trade Secrets
Breach of Fiduciary Duty
Debtor/Creditor Disputes
Fraud
Intellectual Property Disputes
Unfair Competition
Non-Compete Agreements
Unfair Debt Collection
Wrongful Foreclosure
Commercial Transactions
Business Formation
Business Structure and Formation Consulting
Business Contracts
Real Estate
Buying/Selling Merchandise
Employment Contracts
Partnership Agreements
Business Succession Planning
Claims Resolution
Financing and Loans
Employment Law and Counseling
Human Resources Counseling
Employment Litigation
Wage and Hour Violations and Disputes
Harassment Prevention Training
Regulatory Compliance
Administrative and Internal Investigations
Employment Discrimination Litigation
ADA (Americans with Disabilities Act) Violations
FLSA (Fair Labor Standards Act) Wage Claims
FMLA (Family and Medical Leave Act) Claims
Title VII (Civil Rights Act of 1964) Claims
Administrative and Civil Service Proceedings
Additional Info
Our concentration is on commercial transactions, business & employment law & litigation. We assist individual entrepreneurs & owners of diverse enterprises in all legal aspects of their business operations & commerce 888-872-8199

Texas Litigation Attorneys
At the Dallas law firm of Maris & Lanier, P.C. our concentration is on commercial transactions, business and employment law and litigation. We assist individual entrepreneurs and owners of diverse enterprises, including mortgage lenders, real estate developers, manufacturers, technical services, restaurants, import companies, healthcare providers, employers and other privately held businesses and governmental entities in all legal aspects of their business operations and commerce, including transactions and claims.
With its business orientation, Maris & Lanier, P.C. offers clients individual attention, entrepreneurial flexibility and innovative legal and business solutions. Our attorneys protect and promote the interests of our clients, whether employing creative strategies for commercial transactions and business negotiations or applying winning advocacy at trial and during litigation.
Listed in Martindale Hubbell's register of Pre-Eminent Lawyers, our partners achieved the highest rating for legal ability in Martindale Hubbell, which not only reflects achievement of the highest professional standards, but also integrity and long-standing experience in the legal field. Texas Monthly has also recognized our partners as Texas Super Lawyers.
A top priority in serving new and established businesses and governmental entities is litigation avoidance. Because lawsuits are expensive and disruptive, our attorneys find cost effective solutions to avoid claims altogether or to shorten or minimize litigation and any potential liability.
Always willing to go to trial, our attorneys engage in early case investigation, thorough research and preparation coordinated with the efforts of a highly qualified support team. Maris & Lanier, P.C. uses state of the art technology with the aim of winning at trial.
Our transactional practice focuses on constructing and negotiating smart business deals and creative legal documents for productive outcomes in real estate, leasing, lending, manufacturing and other commercial endeavors. Backed by broad based knowledge of business law and of the art of negotiation, our commercial advice provides clients with the ability to form fundamentally sound legal relationships. Our understanding of business organizations and legal issues allows us to guide clients through the uncertainties of the world of commerce.
For trusted legal advice and representation, we invite you to Contact Our Dallas Law Firm at (214) 706-0920 to arrange a consultation.
Maris & Lanier, P.C. is a Dallas based law firm that provides legal services for individual entrepreneurs, privately held businesses and governmental entities throughout Texas. The law firm's focus is in the areas of business law, commercial transactions, employment law, employer-employee relations counseling, as well as civil and commercial litigation.
Our attorneys represent a diverse client base in the DFW metroplex, including the following industries: Internet technology and commerce companies, air cargo charter, automobile dealerships, technical service providers, municipalities, hospitals and health care providers, construction, real estate, mortgage lenders and mortgage services, property management, hospitality, import businesses, medical equipment manufacturing and healthcare organizations, to name a few examples.
Comprehensive litigation services at Maris & Lanier, P.C. encompass client representation in all Texas civil and state courts, as well as the U.S. District Courts, including the Northern, Southern and Eastern Districts of Texas, the U.S. Court of Appeals, Fifth Circuit and the U.S. Supreme Court.
Lawyers