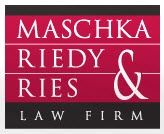 Maschka, Riedy & Ries Law Firm
100 Main St W

Saint Clair

,

MN

56080
Area Practice
Personal Injury
Wrongful Death
Medical Malpractice
Civil Litigation
Commercial Law
Commercial Litigation
Corporate Law
Debtor And Creditor Remedies
Negligence
Business Law
Business Litigation
Bankruptcy
Real Estate
Estate Planning
Trusts And Estates
Probate
Social Security Disability
Banking Law
Taxation
Water Law
Drainage Law
Drainage And Levee
Alternative Dispute Resolution
Mediation
Construction Law
Dram Shop Liability
Aviation Law
Insurance Defense
Criminal Law
Subrogation
Wills
Additional Info
Maschka, Riedy & Ries Law Firm, was formed in 1999 by attorneys who had previously practiced in Mankato for many years.
The firm serves clients across Southern Minnesota, Iowa and South Dakota with offices in Mankato and St. Clair. Firm members are active members of those communities.
The firm practices in the areas of personal injury, wrongful death, medical malpractice, commercial and construction litigation, insurance defense, banking, bankruptcy, debtor and creditor law, workout, corporate, criminal law, general practice, real estate, estate planning and probate law.
Five of the six partners have been practicing law for more than 25 years. Individual attorneys with the firm are licensed to practice in Minnesota, Iowa and South Dakota.
Gerald Maschka has been listed in: Woodward and White, "The Best Lawyers in America," for fifteen consecutive years. Gerald Maschka, John M. Riedy, Charles Ries, Marcus Christianson and James Fleming are now or have previously been named "Super Lawyers." Renee Rubish has been named a "Rising Star" by Minnesota Law and Politics.
Lawyers