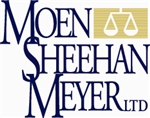 U.s. Bank Place, Suite 700, 201 Main Street, P.o. Box 786,

La Crosse

,

WI

54602
Area Practice
General Civil Practice
Insurance
Taxation
Corporate Law
Personal Injury
Estate Planning
Trust Law
Probate
Criminal Defense
Real Estate
Workers Compensation
Banking Law
Elder Law
Family Law
Bankruptcy
Business Law
Collections
Contracts
Employment Law
Environmental Law
Divorce
Adoption Law
Child Custody
Guardianship
Traffic Defense
Mediation
Social Security
Wills
Trusts
Additional Info
Moen Sheehan Meyer, Ltd. has been assisting individuals, families and businesses as they face the challenges of constantly changing business, social and legal environments since 1853. Trust us to be there for you. Licensed in WI, MN & IA.

Moen Sheehan Meyer, Ltd. is the oldest law firm in La Crosse, Wisconsin, is rich with history and character. It was founded in 1853 by William Dennison and James Lyndes. The firm has endured the test of time and, although its name has changed, its reputation for accountability, integrity and determination for its clients and its legal practice has remained the same.
The start of the second half of the twentieth century saw the establishment of the firm known as Moen Sheehan Meyer, Ltd. In the early 1950's, Richard S. Moen and William E. Meyer joined the firm, with Leon E. Sheehan joining ten years later. During these years, a number of other well-known attorneys were associated with the firm. These attorneys included A.P. Funk, Jr., M.H. Giffin, George M. Snodgrass, Charles N. Goerdt, L.A. English, Burleigh A. Randolph, V. Downing Edwards, and Paul W. Henke, Jr.
The six principals of Moen Sheehan Meyer, Ltd. are James S. Naugler, G. Jeffrey George, David F. Stickler, Joseph J. Skemp, Jr., Kara M. Burgos and Matthew R. Cromheecke.
Lawyers