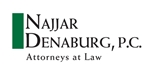 2125 Morris Ave

Birmingham

,

AL

35203
Area Practice
General Civil Practice
Divorce
Child Custody
Family Law
Corporate Law
Business Law
Commercial Real Estate
Residential Real Estate
Probate
Estate Planning
Bankruptcy
Foreclosures
Construction Law
Commercial Law
Alternative Dispute Resolution
Mediation
Arbitration
Trial Practice
Federal Practice
Appellate Courts
Additional Info
Serving the State of Alabama: Family, Business, Real Estate, Litigation, Bankruptcy & Foreclosure.

Nestled among the city's teeming corporate towers, down a quiet cobblestone street, in a century-old brick and mortar structure are the law offices of Najjar Denaburg, P.C. In the 1800s, the building housed a livery stable; in the 1900s, a tavern. In this new millennium, clients find it is a center where serious service is painstakingly provided. And with a nod to its more recent history, they find that hospitality still thrives as well. It is an ideal place for Najjar Denaburg.
A progressive practice without pretension. Sophisticated, yet never stuffy. Where clients large and small are made to feel welcome, comfortable, and vital to the process. With its natural light atrium, thriving indoor trees, and hand-hewn hearths, this warm and storied setting proves to be natural home for our firm's unique philosophy and fresh approach. We believe this is precisely the kind of environment where we can more freely stimulate honest communication, kindle ideas for more creative legal services, and forge relationships that will last a lifetime.
Najjar Denaburg, P.C. is steeped in legal tradition with a history of providing innovative solutions to complex legal issues. Our team is superbly skilled, with each highly sought member sharing a common strength: the ability to understand keenly his or her area of the law and to communicate it effectively- to the client, to the parties involved, and when necessary, to the court. Our attorneys boast local, regional, and national certifications in their fields and decades of practical experience.
Our staff of associates, legal assistants, and support personnel are motivated individuals who work closely with firm members to ensure that the same great care is given to the smallest detail as to the grandest strategy. In the end, we offer what every individual or business client needs and should demand from its team of legal representatives: support, stability, and success.
Lawyers