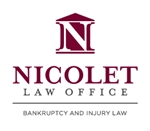 511 2nd St Ste 203

Hudson

,

WI

54016
Area Practice
Debt Relief
Bankruptcy
Bankruptcy Chapter 7
Bankruptcy Chapter 13
Bankruptcy Litigation
Debtor Bankruptcy
Consumer Bankruptcy
Personal Bankruptcy
Personal Injury
Accidents
Automobile Accidents and Injuries
Automobile Negligence
Brain Injury
Bodily Injury
Bus Accidents
Boating Accidents
Dog Bites
Motor Vehicle Accidents and Injuries
Motorcycle Accidents
Plaintiffs Personal Injury
Spinal Injury
Traumatic Brain Injury
Whiplash
Wrongful Death
Matrimonial Bankruptcy Law
Civil Practice
Litigation
Civil Litigation
Trial Practice
Negligence
Premises Liability
Workers Compensation
Social Security Disability
Medical Malpractice
Nursing Home Abuse and Neglect
Nursing Home Liability
Nursing Home Negligence
Nursing Home Litigation
Social Security Disability Insurance
Social Security Appeals
Workers Compensation Appeals
Workers Compensation Arbitration
Black Lung
Real Estate
Adverse Possession
Boundary Disputes
Easements
Land Sales
Land Acquisitions
Quiet Title
Real Estate Acquisitions
Real Estate Bankruptcy
Real Estate Contracts
Real Estate Foreclosure
Real Estate Fraud
Waterfront Development
Right of Way Easements
Residential Real Estate Sales
Residential Real Estate Foreclosure
Residential Real Estate Development
Residential Real Estate
Real Property
Real Estate Title
Real Estate Tax Liens
Real Estate Settlements
Real Estate Sales
Real Estate Mediation
Real Estate Litigation
Real Estate Leasing
Property Law
Trusts and Estates
Wills
Additional Info
Bankruptcy Car Accident and Personal Injury Firm Personal Attention to You. Personal Dedication to Your Case. 1-855-NICOLET (calls answered 24 hours a day).

In today's uncertain economy, just keeping your family afloat financially can be extremely stressful. You may be fearful of a lender's attempts to foreclose on your home or repossess your car or truck. Creditors could be harassing you day and night. Your wages may be targeted for garnishment from your paycheck.

Did a sudden, painful, expensive personal injury in an accident begin your downward economic spiral? You should speak with a versatile lawyer who specializes in sound counsel for bankruptcy clients and those seeking maximum compensation for lost wages, medical bills, and pain and suffering.

At Nicolet Law Office, S.C., experienced Eau Claire bankruptcy attorney Russell D. Nicolet can tell you about legal, gradual, healthful ways to pursue a "fresh start" - a new, successful beginning for you and your western Wisconsin family.