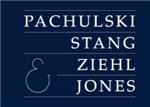 Pachulski Stang Ziehl & Jones Llp
919 North Market Street, 17th Floor,

Wilmington

,

DE

19899
Area Practice
Bankruptcy
Corporate Reorganization
Debtor-Creditor Matters
Insurance Insolvency
Civil Litigation
Business Law
Commercial Law
General Real Estate
Corporate Entertainment Transactions
Additional Info
Pachulski Stang Ziehl & Jones LLP specializes in corporate reorganization, bankruptcy and insolvency law, insurance insolvency, business and commercial litigation, and general real estate, corporate, and transactional matters. With offices in Los Angeles, San Francisco, Delaware, and New York, the Firm provides clients with a unique combination of top-quality representation and small-firm economics and commitment.
The Firm's demonstrated ability to effectively combine its bankruptcy and litigation disciplines distinguishes the Firm from other firms and attorneys in the insolvency area. While our primary objective is to seek business solutions to our clients' problems, the Firm's attorneys are highly experienced in prosecuting and defending complex litigation when results cannot be achieved by other means.
The Firm's bankruptcy attorneys are experienced in representing all major constituencies in out-of-court workouts and in bankruptcy cases, including debtors, trustees, receivers, creditors' committees, secured creditors, bondholders, asset purchasers, and third-party plan proponents. For more details, please visit the Firm's website, http://www.pszjlaw.com/practice.asp. The Firm's insolvency representations have included extensive experience in various industries, including financial services, insurance, technology, health care, restaurant chains, agriculture, real estate, entertainment and retail. For more details on the nature of the Firm's representations, please visit http://www.pszjlaw.com/practice_det.asp?id=3.
The Firm's litigation attorneys have a wide range of experience in complex business litigation in state and federal courts, including litigating claims relating to contracts, commercial matters, business torts, insurance insolvencies, insurance coverage, reinsurance, director and officer liability, banking, and real estate. For more details, visit http://www.pszjlaw.com/practice_det.asp?id=2.
The Firm's transactional practice includes the representation of clients in general real estate matters, including the acquisition, disposition, development and subdivision of real property; the leasing of commercial, industrial, and retail space; the negotiation of acquisition, construction, and permanent financing; and workouts. The Firm also advises clients regarding corporation, partnership, and limited liability company matters, including SEC reporting stock plans, employment, and compensation issues. For more details, visit http://www.pszjlaw.com/practice_det.asp?id=4.
Lawyers