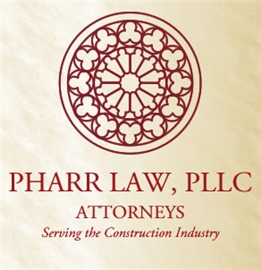 8 W 3rd St Ste 600

Winston Salem

,

NC

27101
Area Practice
Litigation
Construction Law
Products Liability
Professional Liability
Real Estate Litigation
Federal Practice
Additional Info
Attorneys at Law

At Pharr Law, client service determines the agenda for every day. Each staff member and attorney works for our clients.

Each person at Pharr Law works to understand our clients' needs. Each person works to know our clients' business. Each person works to understand our clients' goals and objectives.

Each one of us understands that service to our clients takes precedence over anything else we do. To that end, we hold ourselves to a rigorous standard of excellence, summoning the highest quality of thought about questions our clients present. Our dedication to these principles enables us to develop creative, sound, and effective solutions to the issues our clients face.

Founding partner, Steve Pharr, has had a lifelong interest in architecture and buildings, an interest that developed especially during a year of graduate study in Montpellier, France. Academic study was augmented by summer jobs with construction companies and building component manufacturers.

Our work in construction law catapulted forward in 1996 when problems with artificial stucco (EIFS) were discovered. Hundreds of homes in Wilmington, North Carolina were affected, eventually leading to lawsuits across the Southeast. In the ensuing period, our team has handled hundreds of residential and commercial construction lawsuits. We have successfully defended window manufacturers in that litigation and became national counsel for a number of window manufacturers, ultimately coordinating litigation in over 30 states.

Our focus on construction and commercial litigation sends us out across all of North Carolina and South Carolina and much of the eastern half of the United States.