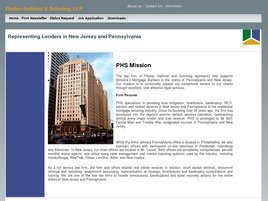 Phelan Hallinan Diamond And Jones, Pllc
One Penn Center, 1617 Jfk Boulevard, Suite 1400,

Philadelphia

,

PA

19103
Area Practice
Creditors' Rights
Foreclosures
Real Estate
Bankruptcy
Commercial Litigation
Additional Info
Phelan Hallinan Diamond and Jones, PLLC Mission

The law firm of Phelan Hallinan Diamond and Jones, PLLC represents and supports America's Mortgage Bankers in the states of Pennsylvania and New Jersey. Our mission is to continually expand our exceptional service to our clients through excellent, cost effective legal services.

Firm Resume

Phelan Hallinan Diamond and Jones, PLLC specializes in providing loss mitigation, foreclosure, bankruptcy, REO, eviction and related services in New Jersey and Pennsylvania to the residential mortgage servicing industry. Since its founding over 25 years ago, the firm has developed into the region's premier default services operation, representing almost every major lender and loan servicer. Phelan Hallinan Diamond and Jones, PLLC is privileged to represent both Fannie Mae and Freddie Mac in Pennsylvania and New Jersey.

While the firms' primary Pennsylvania office is located in Philadelphia, we also maintain offices with permanent on-site attorneys in Pittsburgh, Harrisburg and Allentown. In New Jersey, our main offices are located in Mt. Laurel. Both offices are completely computerized, provide monthly status reports, and utilize every case management and invoice reporting systems used by the industry, including VendorScape, NewTrak, IClear, LenStar, Alltel, and New Invoice.

As a full service law firm, the firm also offers related real estate services in eviction, court docket retrieval, document retrieval and recording, assignment processing, representation at closings, foreclosures and bankruptcy consultations and training. We are one of the few law firms to handle foreclosures, bankruptcies and asset recovery actions for the entire states of New Jersey and Pennsylvania.