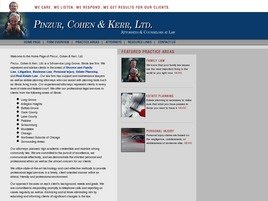 Pinzur, Cohen & Kerr, Ltd.
4180 Rfd Route 83, Suite 208,

Deer Park

,

IL

60047
Area Practice
Administrative Matters
Adoption Law
Annexation
Appellate Practice
Arbitration
Asset Acquisitions
Sale Of Goods
Banking Law
Loan Documentation
Business Law
Business Litigation
Business Planning
Formation
Business Successions
Buying And Selling Of Businesses
Child Custody
Child Support
Civil Litigation
Federal Practice
Civil Rights
Class Actions
Closings
Collections
Commercial Law
Residential Development
Commercial Litigation
Commercial Real Estate
Community Association Law
Condemnation
Condominium Law
Contractual Disputes
Construction Law
Construction Arbitration
Construction Defects
Construction Litigation
Consumer Law
Contested Wills
Contracts
Cooperative Housing Law
Copyrights
Corporate Law
Creditors Rights
Debtor And Creditor
Developer Disputes
Discrimination
Divorce
Domestic Violence
Elder Law
Employment Agreements
Employment Law
Entrepreneurial Ventures
Environmental Law
Equipment Leasing
Equitable
Injunctive Remedies
Estate Planning
Family Law
Family Business Law
Forcible Eviction Law
Foreclosures
Franchise Law
General Practice
Guardianship
Harassment
Homeowner'S Association Law
Incorporation
Institutional Lending
Insurance Regulations
Workouts
Insurance
Land Development
Zoning Law
Landlord And Tenant Law
Leases And Leasing
Limited Liability Company Law
Litigation
Matrimonial Law
Mechanics Liens
Mergers And Acquisitions
Mortgages
Municipal Bonds
Partnership Law
Personal Injury
Premarital Agreements
Probate
Real Estate
Real Estate Finance
Real Estate Litigation
Real Estate Tax Appeals
Real Estate Tax Assessment
Residential Real Estate
Sales Acquisitions
School Law
Secured Transactions
Small Business Law
Social Security
Spousal Support
Stock Acquisitions
Trademarks
Trusts And Estates
Uniform Commercial Code
Wills
Planning Law
Land Use
Additional Info
Successful, Experienced, Thorough, Prompt, Aggressive,"Results Oriented"Representation

Pinzur, Cohen & Kerr, Ltd. is a full-service Long Grove, Illinois law firm. We represent and advise clients in the areas of Divorce and Family Law, Litigation, Business Law, Personal Injury, Estate Planning, and Real Estate Law . Our law firm has support and maintenance lawyers as well as estate planning attorneys who can assist with planning tools such as Illinois living trusts. Our experienced attorneys represent clients in every level of state and federal court. We offer our professional legal services to clients from the following areas of Illinois:
-Long Grove
-Arlington Heights
-Buffalo Grove
-Cook County
-Lake County
-Palatine
-Schaumburg
-Mundelein
-Chicago
-Northwest Suburbs of Chicago
-Surrounding Areas
Our attorneys possess high academic credentials and maintain strong community ties. We are committed to the pursuit of excellence, we communicate effectively, and we demonstrate the strictest personal and professional ethics as well as the utmost concern for our clients.
We utilize state-of-the-art technology and cost-effective methods to provide professional legal services in a timely, client-oriented manner within an ethical, friendly and professional environment.
Our approach focuses on each client's background, needs and goals. We are committed to responding promptly to telephone calls and reporting on cases regularly as well as minimizing and at times eliminating risk by educating and informing clients of significant changes in the law.
Lawyers