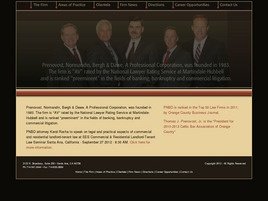 Prenovost, Normandin, Bergh & Dawe A Professional Corporation
2122 N Broadway Ste 200

Santa Ana

,

CA

92706
Area Practice
Appellate Practice
Automobile Law
Banks And Banking
Banking Law
Banking Litigation
Commercial Litigation
Bankruptcy
Business Law
Business Litigation
Complex Litigation
Civil Litigation
Collections
Construction Litigation
Corporate Law
Corporate Litigation
Creditors Rights
Creditor Bankruptcy
Dealership Law
Employment Litigation
Estate Planning
Probate
Federal Civil Practice
Financial Institutions Law
Insurance Coverage
Insurance Litigation
Lenders Rights
Loan Workouts
Mortgage Banking Law
Real Estate
Real Estate Litigation
Nationwide Bankruptcy
Loan Sub-Servicing
Additional Info
Banking, Bankruptcy, Commercial Litigation

Prenovost, Normandin, Bergh & Dawe has been serving the interests of local, regional and national clients in the business community for over 25 years. The firm has achieved the highest rating available by Martindale-Hubbell, which also ranks the firm as "preeminent" in the fields of Banking, Bankruptcy and Commercial Litigation.
Our commitment to a higher level of responsiveness and personal attention to our clients' needs is perhaps the most significant reason for the success and continued growth of the firm. Prenovost, Normandin, Bergh & Dawe prides itself in providing high-quality, cost-effective legal services reflecting high standards of innovation, ethics and professionalism. The firm has been rated an Orange County "Top 50" Law Firm by the Orange County Business Journal in 2010 and 2011.
Lawyers