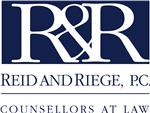 234 Church Street, 6th Floor,

New Haven

,

CT

06510
Area Practice
Alternative Dispute Resolution
Antitrust and Trade Regulation
Bankruptcy
Business Law
Commercial Law
Commercial Real Estate
Finance
Corporate Law
Employee Benefits
Pension Plans
Taft-Hartley Plans
Environmental Law
Health Care
Labor and Employment
Litigation
Mergers and Acquisitions
Nonprofit and Charitable Organizations
Occupational Safety and Health
Probate
Real Estate
Securities
Taxation
Trade and Professional Associations
Trusts and Estates
Zoning Law
Planning Law
Land Use
Additional Info
Over 60 Years of Providing Experience Advocacy and Timely Service.

Reid and Riege, P.C. was founded in 1950 by John Reid and John H. Riege. The philosophy of the firm is to provide quality, imaginative legal services to privately held and publicly held businesses and financial institutions, and to individuals throughout the State of Connecticut. The firm is comprised of the following practice groups: Corporate and Securities; Commercial; Environmental; Litigation; Real Estate; Tax; Health Care; Employee Benefits and Pension; Estate Planning and Estate Settlement; Bankruptcy and Insolvency; Taft-Hartley (multiemployer) Pension and Benefits Law; and Employment Law.
The firm encourages its attorneys to participate actively in a wide variety of civic and professional organizations and activities. Some of the organizations in which the firm's attorneys have actively served include the Connecticut Business and Industry Association, Association of Commercial Finance Attorneys, Council on Foundations, Hartford Downtown Corporation, Connecticut Bar Foundation, and National Conference of Commissioners on Uniform State Laws.
Lawyers