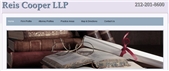 250 W 57th St Ste 1612

New York

,

NY

10107
Area Practice
Real Estate
Commercial Law
Residential Transactions
Commercial Mortgage Financing
Commercial Credit Transactions
Residential Mortgage Financing
Private Banking
Cooperative
Condominium Housing Law
Leasing
Business Law
Additional Info
AV Rated by Martindale-Hubbell

Alan Reis and Jeffrey Cooper were previously partners at Fishbach, Hertan & Reis and subsequently Friedman Krauss & Zlotolow, LLP. At Reis Cooper LLP we continue our practice of representation of clients in real estate transactions, including private banking, mortgage lending, commercial and residential purchase/sale transactions, leasing and other matters.

We specialize in handling complex, non-standard tailored and commercial mortgage and other secured lending transactions. We have extensive experience in residential mortgage transactions, and have developed an expertise in assisting our clients in working through the complex regulatory issues that arise in such transactions.

Additionally, we have considerable expertise in matters relating to cooperative and condominium associations, and represent many such organizations.