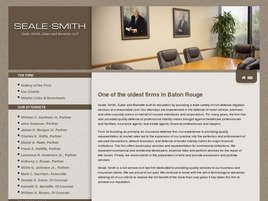 Seale, Smith, Zuber & Barnette
2 United Plaza Blvd Ste 8550

Baton Rouge

,

LA

70809
Area Practice
Mortgage Lien Foreclosure
Mortgage Bankruptcy
Real Estate Title
Real Estate Litigation
Casualty Defense
Professional Liability Defense
Agents and Brokers Errors andOmissions
Funeral Directors Liability
Medical Malpractice Defense
Legal Malpractice Defense
Trucking Liability
Personal Injury
Decedents Estates
Estate Litigation
Creditor Bankruptcy
Lender Liability
Products Liability Defense
Additional Info
The history of Seale, Smith, Zuber, and Barnette dates back to 1939, when its founding partner, A.G. Seale, began practicing law in Baton Rouge. In 1946, Mr. Seale joined with Robert W. Smith and began working to build the firm that exists today. In addition to its reputation for quality representation for its clients, attorneys with the firm have become leaders in the bar, members of the judiciary and other esteemed public officials. Continuing this tradition, many of our attorneys are active in the community as well as the Louisiana State and Baton Rouge Bar Associations. Aspiring to the highest ethical standards, the firm has several partners who are members of the Attorney Disciplinary Board.
From its founding, Seale, Smith's primary focus has been to provide a wide variety of civil defense litigation services at a reasonable cost. Our attorneys are experienced in the defense of motor vehicle, premises and other casualty claims on behalf of insured individuals and corporations. We also handle large-scale corporate litigation as well as product liability claims. For many years, Seale, Smith has built a reputation for quality defense of professional liability claims brought against healthcare professionals and facilities, insurance agents, real estate agents, financial professionals and lawyers.
Our services are not limited to litigation, however. A major part of our practice is in the perfection and enforcement of secured transactions, default resolution, and defense of lender liability claims. We represent numerous commercial and residential developers as well as owners of significant real estate holdings within the state. We examine titles to immovable property and provide title opinions. Furthermore, we offer bankruptcy services, corporate business services (reorganization, formation, and dissolution), and provide services for commercial collections. Finally, we assist clients in the preparation of wills and other estate planning and provide succession and probate services.
In summary, Seale, Smith is a full-service civil law firm dedicated to providing extensive services to our business and insurance clients. We are proud of our past. We continue to excel with the aid of technological advances allowing all of our clients to receive the full benefit of the more than sixty years it has taken this firm to achieve our reputation.
Lawyers