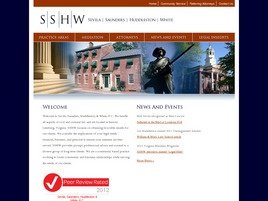 Sevila, Saunders, Huddleston & White, P.c.
30 N King St

Lansdowne

,

VA

20176
Area Practice
Civil Litigation
Criminal Law
Corporate Law
Commercial Law
Family Law
Real Estate
Zoning Law
Personal Injury
Additional Info
Civil Trial, Real Estate, Family Law, Employment Law, Business Law, Personal Injury

The firm of Sevila, Saunders, Huddleston & White, P.C. is a general practice law firm composed of nine attorneys and 13 legal support staff. Sevila, Saunders, Huddleston & White has remained at its current location adjacent to the Loudoun Country Court Complex since 1974. The firm handles all areas of civil practice, including land use, zoning, subdivision, real estate development, real estate transactions, corporate, commercial, family, personal injury and employment law. In addition, the firm's practice includes misdemeanor and felony criminal defense, concentrating in the area of serious traffic offenses. The firm is listed in the Bar Register of Preeminent Lawyers.
Lawyers