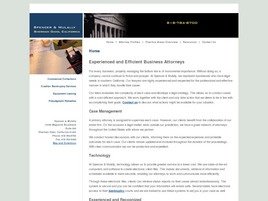 14156 Magnolia Blvd Ste 200

Sherman Oaks

,

CA

91423
Area Practice
Business Law
Real Estate Litigation
Debtor-Creditor
Secured
Unsecured Transactions
Judicial
Non-Judicial Foreclosure
Commercial Collections
Creditors' Rights In Bankruptcy
Real Estate
Contract Disputes
Mechanics' Liens
Equipment Leasing
Additional Info
For over two decades, Spencer & Mulally has distinguished itself by providing specialized legal services in business and real property litigation and debtor-creditor disputes. The firm has taken the lead in integrating technology into case management, resulting in representation that is efficient, economical and prudent.
Eric Spencer and Thomas Mulally believe that the combination of fifty years of legal experience augmented by the most modern computer equipment available has enhanced the quality of services offered to their local, national and international clients.
The Firm has achieved the highest rating for legal ability in Martindale-Hubbell and is regarded as cutting edge because of its successful blending of the automation of the future with a command of the historic foundations of the law. The goal for each of client is cost-effective, successful representation. Case management is accomplished by creating a simple analysis and using high technology to synthesize information into an accessible, organized form. The electronic file eliminates a mountain of paper and the time to go through it. Retrieval is instantaneous for the client and attorneys.
Lawyers