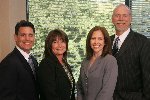 Stagg, Terenzi, Confusione & Wabnik, Llp
275 Madison Ave Ste 705

New York

,

NY

10016
Area Practice
Litigation
Bankruptcy
Foreclosures
Creditor's Rights
Banking and Financial Services
Appellate Practice
Commercial Law
Corporate Law and Transactions
Financial Transactions
Securities
Environmental Law
Labor and Employment
Real Estate
Zoning and Land Use
Medical Malpractice
Products Liability
Municipal Law
Arbitration and Mediation
Additional Info
At Stagg, Terenzi, Confusione & Wabnik, we represent multi-national corporations, Fortune 500 companies, financial institutions, securities firms, small companies, municipalities and individuals in many diverse practice areas, including commercial and general liability litigation, labor and employment arbitrations and litigation, securities law bankruptcy, foreclosure and creditor's rights, corporate transactions, municipal law, real estate, zoning and land use, and environment law. In addition, we act as mediator for disputes resolution.
Stagg, Terenzi, Confusione & Wabnik, we provide quality representation at a reasonable cost. We always put our clients' needs first and are especially proud of our collaboration and partnership with in-house counsel and clients. We have offices located conveniently on Long Island, in southern Connecticut and in central New Jersey.
Some of the Firm's practice areas include:
Litigation - Stagg, Terenzi, Confusione & Wabnik nationally recognized litigation practice is one of the most prominent among the Firm's practice areas. Our clients depend on us to leave no stone unturned and to explore all viable options to resolve disputes, including early resolution through arbitration and mediation. We are committed to resolving disputes in a cost-effective manner, but know that preparation and skill lead to the successful trial result we have obtained. Although we are aggressive litigators, our defense strategy is guided by the practical realities of cost versus benefit on a case-by-case basis. We have developed a reputation as a firm that efficiently and effectively protects the interest of our clients.
Our commercial practice includes the representation of companies, banks and other financial institutions. We have extensive Uniform Commercial Code experience, having litigated UCC issues before New York's highest Court. We also represent our clients in credit card litigations, and have broad experience with the federal Consumer Credit Protection Act (Truth in lending Act, Equal Credit Opportunity Act, fair debt Collection Practices Act, Electronic Fund Transfer and the Fair Credit Reporting Act), Regulation Z, and various state consumer credit statutes. In addition, we regularly defend our commercial clients in all types of contract claims, ranging from simple breach of contract actions to complex disputes.
With regard to our general liability practice, some of the largest retail companies in the world turn to Stagg, Terenzi, Confusione & Wabnik to defend them cases involving on-site incidents, false arrest and defamation claims. We represent many self-insured companies and work with most of the nation's third party administrators. We represent one of the world's largest manufacturers of brand-name products for the home improvement and new home construction markets, and a leading provider of a variety of installed products and services in matter such as product liability and construction defects. The Firm also defends medical malpractice actions, personal injury actions, and defends and prosecutes insurance subrogation actions, collaborating with in-house counsel, paralegals and adjusters. We recognize that our general liability clients seek cost-effective representation. In this regard, our attorneys were on of the first metropolitan firms to utilize the federal removal procedure to both minimize client exposure and expedite case resolution. We are flattered that many other attorneys now utilize this procedure on behalf of their clients and view this as a testament to our leadership and creativity in this practice area.
Bankruptcy - Stagg, Terenzi, Confusione & Wabnik represents lenders, real estate developers, landlords and other creditors in the enforcement of their rights and remedies in secured and unsecured transactions in bankruptcy proceedings. We take a proactive approach in resolving debt-related transactions, whether through workouts or litigation. Our attorneys have extensive experience in the United States Bankruptcy Courts, including involvement in sophisticated Chapter 11 proceedings, drawing on their other practice areas such as commercial litigation, financing, securities and corporate transactions. We are fully versed in the prosecution and defense of all bankruptcy litigation including avoidance actions, stay litigation, adequate protection and dischargeability actions as well as all aspects of Section 366 sales and plan confirmation proceedings.
Foreclosure & Creditor's Rights - Stagg, Terenzi, Confusione & Wabnik represents lenders in mortgage foreclosure proceedings on both residential and commercial properties. The Firm also represents tax lien holders in enforcement and foreclosure of tax liens. Our staff has extensive foreclosure experience and recognizes the significance of prosecuting a foreclosure action diligently and expeditiously from commencement of the proceedings to conveyance title. Although we are aggressive litigators, the Firm is committed to achieving loss migration alternatives whenever possible. We are familiar with the old maxim "time is money" and we understand that implementing a loss mitigation solution may be the most cost effective process for all parties involved.
Appellate Advocacy - Stagg, Terenzi, Confusione & Wabnik represents clients before federal and state appellate courts. Our attorneys have appeared before New York's highest court, The Court of Appeals, to argue on behalf of our national banking clients as well as appearing before the United States Court of Appeals. We have a high success rate before appellate tribunals because we recognize that appellate practice is a distinct practice.
Labor & Employment - The Firm has broad experience with labor and employment matters, having represented clients in court and before administrative agencies, such as the EEOC and New York State Division of Human Rights. We have also provided diversity training and sexual harassment seminars for our clients and have prepared employee handbooks, policies for sexual harassment and drug and alcohol testing, as well as other.
Securities - Stagg, Terenzi, Confusione & Wabnik represents hedge funds and broker dealer in litigation in the New York metropolitan area. We are familiar with customer disputes, broker defalcations, churching, suitability and margin disputes. We arbitrate before FINRA and other tribunals. In addition, from time to time we are called on by our broker-dealer clients to represent them in connection with contracts and employment agreements with their employees.
Environmental Law - Stagg, Terenzi, Confusione & Wabnik has secured significant environment victories for our clients. We have represented property owners and civic associations in environmental impact litigation involving the federal National environmental Policy Act (NEPA) and New York State's Environment Quality Review Act (SEQRA). The Firm has also represents clients in matters involving spills under New York's Navigational Law and in various matters involving permitting, compliance, hazardous substances, and due diligence for real estate, corporate and commercial transactions.
Municipal Law - The Firm represents municipalities in matters ranging from alleged violations of common and statutory law to tax and constitutional disputes. We have successfully defended against class action and other claims involving hundreds of property owners involving assessments and special improvement districts.
Corporate & Real Estate - The Firm acts as counsel to business clients and real estate developers in matters involving financing transactions, real estate and general commercial matters. In this area, we have structured a variety of loans and other financing transactions, including real estate and construction loans, asset-based loans, assets securitizations, sale and leaseback transactions as well as litigating all related commercial actions. Our firm provides guidance in choosing a business form and has organized corporations, partnerships, limited liability companies, and other legal entities throughout the United States, as well as negotiated and prepared joint venture agreements and buy/sell agreements.
Lawyers