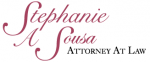 Stephanie Sousa, Attorney At Law
Po Box 345

South Easton

,

MA

02375
Area Practice
Annulment
Assault
Asset Protection
Automobile Accidents
Bankruptcy
Bankruptcy Chapter 7
Child Abuse and Neglect
Child Custody
Child Support
Consumer Bankruptcy
Consumer Law
Credit Repair
Criminal Law
Debt Relief
Debtor and Creditor
Divorce
Domestic Violence
Drug Crimes
Family Law
Fathers Rights
General Practice
Legal Separation
Litigation
Mediation
Medical Malpractice
Misdemeanors
Personal Injury
Restraining Orders
Sexual Assault
Slip and Fall
Visitation Rights
Wrongful Death
Additional Info
Resolving your difficult legal issues with dedicated representation. Outcomes and Clients Matter to Me!

My name is Stephanie A. Sousa. I am an attorney who represents people going through bankruptcy, divorce, and other difficult personal experiences.
The people who need my help often feel lost. It's stressful enough dealing with emotions of fear, loss, failure, sadness, and/or anger, without being overwhelmed by the complexity of their legal problem.
I always take the time to listen with professionalism and empathy. It's important to me that clients feel comfortable and feel part of the legal process. That is why I make it my practice to explain legal language, documents, and legal proceedings in understandable terms.
My job as your attorney is to make these difficult times as smooth and cost effective as possible, while protecting your rights and providing you with zealous legal representation.
Fees
I generally base retainers and fee structures on a case by case basis after consulting with an individual and determining what his or her specific legal problem is likely to entail.
All initial consultations are free. Please call me to set up a date and time to discuss your legal concerns, and let's discuss how we can work together to get you through your specific circumstance.
Lawyers