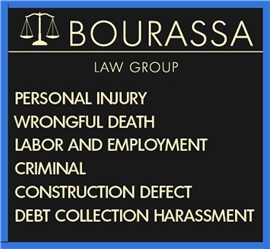 The Bourassa Law Group, Llc
3773 E Cherry Creek North Dr Ste 575

Denver

,

CO

80209
Area Practice
Personal Injury
Bankruptcy
Labor and Employment
Criminal Law
Consumer Law
Accidents
Automobile Accidents
Automobile Negligence
Aviation Accidents
Bicycle Accidents
Bodily Injury
Brain Injury
Bus Accidents
Catastrophic Injury
Cruise Ship Injuries
Dog Bites
Head Injury
Motorcycle Accidents
Pedestrian Injuries
Railroad Accidents
School Bus Accidents
Severe Burns
Slip and Fall
Spinal Injury
Traumatic Brain Injury
Truck Accidents
Unintended Acceleration
Whiplash
Wrongful Death
Construction Law
Construction Accidents
Construction Claims
Construction Contracts
Construction Defects
Construction Equipment Liability
Construction Liability
Construction Litigation
Construction Products Liability
Premises Liability
Inadequate Security
Negligent Security
Premises Security
Negligence
Nursing Home Abuse and Neglect
Nursing Home Negligence
Medical Malpractice
Birth Trauma
Failure to Diagnose
Medical Negligence
Medication Errors
Nursing Malpractice
Nursing Negligence
Obstetric Malpractice
Wrong Site Surgery
Products Liability
Drug and Medical Device Litigation
Elevator Liability
Escalator Liability
Explosions
Firearms Litigation
Flammable Fabrics
Food Borne Disease
Food Products Liability
Gas Explosions
Product Defects
Product Failure
Product Recall
Bankruptcy Chapter 7
Bankruptcy Chapter 13
Bankruptcy Chapter 11
Foreclosures
Personal Bankruptcy
Commercial Bankruptcy
Affirmative Action
Covenants Not To Compete
Employment Class Actions
Employment Contracts
Employment Discrimination
Employment Litigation
Wrongful Termination
Wage and Hour Law
Noncompete Litigation
Noncompetition and Non-Solicitation Agreements
Sexual Harassment
Retaliatory Discharge
Harassment
Trade Secrets
Trademark Litigation
Copyright Litigation
Assault and Battery
Burglary
Criminal Defense
Criminal Fraud
DUI/DWI
Drivers License Suspension
Driving While Intoxicated
Expungements
Federal Criminal Law
Felonies
Hit and Run
Homicide
Juvenile Criminal Law
Juvenile Delinquency
Manslaughter
Misdemeanors
Murder
Parole and Probation
Search and Seizure
Sex Crimes
Sexual Assault
Shoplifting
Stalking
Theft
Traffic Violations
Vehicular Homicide
Weapons Charges
Drugs and Narcotics
Drug Crimes
Drug Trafficking
Gang Crimes
Consumer Class Actions
Consumer Fraud
Consumer Litigation
Consumer Protection
Consumer Rights
Fair Credit Reporting Act
False Advertising
Identity Theft
Unfair Debt Collection
Real Estate
Residential Real Estate
Commercial Real Estate
Wills
Probate
Trial Practice
Civil Litigation
Torts
Complex Litigation
Additional Info
FREE CONSULTATION. We're Here to Help! Extensive Legal Expertise. Reasonable Rates. Strong Client Focus & Commitment to Excellence. Offices In Nevada, California & Colorado.

Serving Clients From Offices in Nevada, Colorado, Arizona, California and Florida.
Accidents happen every day, often due to the negligence of a third party. When you are going through the stress of dealing with the physical and financial fall out, you need a law firm you can trust to help you get back on your feet. The attorneys at The Bourassa Law Group will give you straight, simple answers about medical payments coverage, property damage, and lost wages, as well as assist you in completing necessary paperwork. Our firm focuses on providing exceptional personal service and access to our clients in matters involving injuries, accidents, criminal defense, bankruptcy, labor and employment, consumer law, family law and litigation . We are committed to delivering results-oriented, innovative and cost-effective legal solutions to best meet our clients' needs while maintaining the highest ethical and professional standards. The Bourassa Law Group, LLC represents aggrieved individuals in litigation throughout Nevada, Colorado, Arizona, California, and Florida. Contact us today for a free consultation so we can help you and your family through this stressful time.
Lawyers