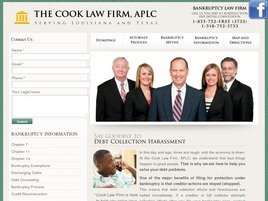 4070 Highway 80

Haughton

,

LA

71037
Additional Info
We Are Here To Solve Your Debt Problems!

Have you been forced to borrow money recently just to make ends meet? Maybe you've had to put your household goods up for collateral or make a payday loan. You can stop this endless cycle. The Cook Law Firm has been able to discharge debt (credit card, payday loans, loans secured by personal property and even old tax debt) for many of out clients. Our clients have restructured loans to lower payments on cars, catch up on home mortgage notes and do away with debt which is not necessary for their family.
Don't let creditors frighten you with foreclosure or garnishment. Although the law has changed, Chapter 13 is still available to deal with these problems. Our firm has dealt with over 10,000 Bankruptcies. For the sake of your family and loved ones, call The Cook Law Firm to schedule a free appointment to discuss your rights at 318-752-FREE.
We are a debt relief agency. We help people file for bankruptcy relief under the Bankruptcy Code.
Lawyers