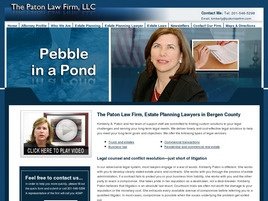 29 North Farview Avenue,

Paramus

,

NJ

07652
Area Practice
Wills
Trusts
Special Needs Trusts
Trusts And Estates
Decedents Estates
Estate Administration
Estate Planning
Successions
Aged And Aging
Elder Law
Advance Directives
Estate Planning For Parents Of Handicapped Children
Estate Planning For The Disabled
Estate Planning For The Elderly
Estate Planning For Unmarried Couples
Estate Settlements
Family Trusts
Family Wealth Transfer
Financial Planning
Living Trusts
Personal Planning
Powers Of Attorney
Retirement Planning
Trust Administration
Trust Planning
Wealth Preservation
Probate
Ancillary Probate
Probate Administration
Probate Taxation
Inheritance
Living Wills
Missing Heir Searches
Business Law
Business Development
Business Enterprises
Business Transactions
Business Estate Planning
Business Formation
Business Organization
Business Planning
Business Reorganization
Business Start-Ups
Business Succession Planning
Business Successions
Business Transfers
Buy-Sell Agreements
Buying And Selling Of Businesses
Closely Held Business Estate Planning
Closely Held Business Law
Closely Held Business Taxation
Family Business Law
Family Business Mediation
Family Business Successions
Joint Ventures
Small Business Law
Partnership Law
Family Limited Partnerships
Family Partnerships
Limited Liability Partnerships
Limited Partnerships
Partnership Dissolution
Partnership Formation
Partnership Organization
Sole Proprietorships
Corporate Law
Closely Held Corporations
Corporate Commercial Law
Corporate Contracts
Corporate Dissolutions
Corporate Fiduciary Law
Corporate Organization
Corporate Partnerships
Corporate Planning
Corporate Real Estate
Corporate Reorganization
Corporate Successions
Corporate Trusts
Corporate Workouts
Family Corporations
Nonprofit Corporations
S Corporations
Real Estate
Real Estate Contracts
Commercial Real Estate
Real Estate Joint Ventures
Real Estate Leasing
Real Estate Sales
Leases And Leasing
Commercial Leasing
Commercial Landlord And Tenant Law
Industrial Leasing
Lease Terminations
Leasing
Office Leasing
Retail Leasing
Shopping Center Leasing
Additional Info
Highly Experienced Estate Planning, Business & Real Estate Lawyers | Wills & Trusts | Business Transactions | Responsive Personal Service 201-291-1603

The Paton Law Firm, Estate Planning Lawyers in Bergen County
Kimberly A. Paton and her team of support staff are committed to finding custom solutions to your legal challenges and serving your long-term legal needs. We deliver timely and cost-effective legal solutions to help you meet your long-term goals and objectives. We offer the following types of legal services:
- Trusts and estates
- Business law
- Commercial transactions
- Residential and commercial real estate
Legal counsel and conflict resolution-just short of litigation
In our adversarial legal system, most lawyers engage in a war of words. Kimberly Paton is different. She works with you to develop clearly stated estate plans and contracts. She works with you through the process of estate administration. If a contract fails to protect you or your business from liability, she works with you and the other party to reach a compromise. She takes pride in her reputation as a dealmaker, not a deal-breaker. Kimberly Paton believes that litigation is an absolute last resort. Courtroom trials are often not worth the damage to your reputation or the monetary cost. She exhausts every available avenue of compromise before referring you to a qualified litigator. In most cases, compromise is possible when the issues underlying the problem get sorted out.
A pebble dropped into a pond makes waves
This is our client service philosophy. We see every transaction as a pebble that has long-term effects on our client relationships. This is why we take a personal interest in every case and visit our clients at home or in their offices, no matter how big or small the transaction. We will never turn down a job because the transaction is too small, but we will let you know when an attorney is unnecessary. Our initial consultations are completely free and our fees are competitive because we are careful about our overhead costs. We pass these savings on to clients. Honesty. Integrity. This is what sets us apart.
Valued members of your support network
Our firm is unique in the fact that we have a system of follow-ups in place to ensure that your legal needs are met quickly and cost-efficiently. We often consult with an external network of experts-from tax professionals to real estate appraisers-to ensure that our clients achieve the best possible outcomes. This is how we deliver value to clients and build lasting relationships within our community.
Call today: (201) 546-5298
The Paton Law Firm is based in Paramus, New Jersey and provides practical legal solutions in business law, real estate law and all aspects of estate planning, estate administration and wealth transfer. Attorney Kimberly Paton and her support staff have a reputation for delivering the highest level of advice, counsel and representation to companies, individuals and families in Bergen County. They also provide responsive legal services to clients in Hackensack and throughout northern New Jersey, including Essex County, Passaic County and Morris County.
Lawyers