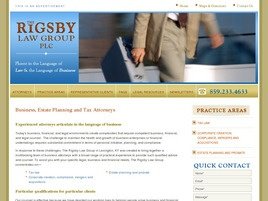 The Rigsby Ball Law Group, Plc
228 E High St

Lexington

,

KY

40507
Area Practice
Taxation
Estate Planning
Mergers And Acquisitions
Divestitures
Probate
Business Planning
Real Estate
Commercial Loans
Charitable Gaming
Additional Info
The Rigsby Law Group concentrates its practice on business, tax, estate, trust, and commercial lending matters. Our practice includes representation relating to business formation, organization and operation; estate planning and implementation; tax planning and implementation; estate and trust administration; business mergers, acquisitions and dispositions; charitable gaming matters, commercial lending transactions and tax representation before state and federal tax authorities.

Our Practice Philosophy

In today's complex legal environment it is virtually impossible for a lawyer to render competent legal advice in all areas of law. Kentucky, like many other jurisdictions, does not certify specialties of law and does not permit attorneys to hold themselves out as specialists, but we feel it is imperative that today's legal professional concentrate his or her practice to most effectively represent his or her clients. Similarly, we feel that members of the general public, as a rule, should seek counsel who spends a significant portion of his or her time on matters like or similar to those for which counsel is sought. It is with this premise that the attorney's of the Rigsby Law Group joined to establish a boutique practice concentrating on business, tax, estate, trust, commercial real estate and commercial lending matters. Notwithstanding this concentration, the firm acts as general counsel for a significant number of clients. When those clients need legal services beyond the self-imposed limitations of our practice we assist them in obtaining the best counsel, based on the specific legal needs of the client at that time, rather than referring the client "down the hall" to a business associate or partner (primarily because he is such).

We do not believe that any one firm can likely have the best available legal talent in all areas of the law required by a client with varied needs. It is the concentration of our practice that permits us to provide clients the most unbiased representation possible, whether in areas in which we concentrate our practice or in those areas beyond the self-imposed limitations of our practice.

We believe our respective backgrounds both complement and supplement the practices of the other legal professionals in the firm. We feel particularly qualified to work with, and complement the work of, a client's accountant and other financial advisors. We understand the language of business as well as the language of law. In point of fact, the firm's greatest source of referrals are accountants and financial advisors with whom the firm or its attorneys have worked in the past.